CWEB Shares Today's Celeb News and Business Updates for November 21, 2023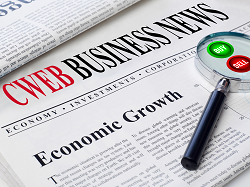 CWEB, the American multinational media news company, has published Today's Celeb News and its latest roundup of trending business news for November 21.
CWEB, the American multinational media news company, has published today's Celeb News and its latest roundup of news for November 21, summarizing the important events and highlights from across industries and around the world.
CWEB has been launched to spread the word on various topics, including today's celeb news, current events, music, and Hollywood updates. A new portal for celebrity gossip and news, CWEB offers the latest platform for spreading the word, covering everything from current events to music and Hollywood updates.
The following are the main highlights as reported in the review:
As investors awaited findings from artificial intelligence chipmaker Nvidia (NVDA), stocks dropped at Tuesday's opening bell, indicating a slowdown in the November rise. When the stock index closed at its highest level since August, the benchmark S&P 500 fell. Also falling were the tech-heavy Nasdaq Composite and the Dow Jones Industrial Average.
Since 2020, Thanksgiving Day has been the best day for American drivers to expect the lowest gas prices. Monday saw the national average price of normal gas at $3.31 per gallon, down 25 cents from the previous month and 36 cents from the same period in 2022, as reported by AAA.
Free COVID-19 tests can be ordered online and sent to the home for Americans.
In anticipation of the usual increase in cases over the winter holiday season, the United States government is offering to send out four additional at-home viral testing.
Sales for Lowe's fiscal third quarter fell about 13% year over year, prompting the company to decrease its full-year sales forecast on Tuesday. Customers spent less on do-it-yourself projects, leading to the decline.
As part of a massive restructuring of the country's third-largest bank, Citigroup (C) announced two months ago, a new round of layoffs among senior managers began Monday.
Earnings Monday, November 20 – Zoom Video (NASDAQ:ZM) and BellRing Brands (BRBR).
Earnings Tuesday, November 21 – Nvidia (NVDA), Lowe's (LOW), Medtronic (MDT), Analog Devices (ADI), Autodesk (ADSK), Best Buy (BBY), Baidu (BIDU), DICK'S Sporting Goods (DKS), Burlington Stores (BURL), HP (HPQ), Nordstrom (JWN), and Jack in the Box (JACK).
Earnings Wednesday, November 22 – Deere (DE).
Stocks to watch with positive momentum and Buy Rating:
Chase Bank (JPM), Microsoft (MSFT), GOOGL, Apple (AAPL), Pay Pal (PYPL), Walmart (WMT), Amazon (AMZN), Groupon (GRPN), Carnival Corporation (CCL), PepsiCo (PEP), Wells Fargo (WFC), Johnson & Johnson (JNJ), Philip Morris International (PM)SNAP INC (SNAP), Exxon Mobil (XOM), Chevron (CVX), EBAY.
Read the full newsletter online: https://www.cweb.com/cweb-news-summarized-breaking-business-and-financial-newsletter-for-november-20-2023-2/
Post your free blog on CWEB at: https://www.cweb.com/add-a-free-blog
Check out the latest news and announcements at CWEB: https://www.cweb.com
About CWEB.com
CWEB is an American multinational media news company. CWEB is primarily involved in the news, media, blogs and entertainment industries, including free forums, classifieds and job postings. CWEB reports breaking news, celebrity, entertainment, sports, politics, finance, stock market and business news.
Facebook: https://www.facebook.com/cwebmedia
Instagram: https://www.instagram.com/cweb/
Twitter: https://twitter.com/cweb
YouTube: https://www.youtube.com/c/cwebmedia
TikTok: https://www.tiktok.com/@cwebnews
Media Contact
Company Name: CWEB
Contact Person: Rachel Cohen
Email: Send Email
Phone: (310) 990-0009
Address:PO BOX # 12404
City: Marina Del Rey
State: California 90295
Country: United States
Website: https://www.cweb.com/