Charting Success: ByDzyne's Inspiring Journey in 2023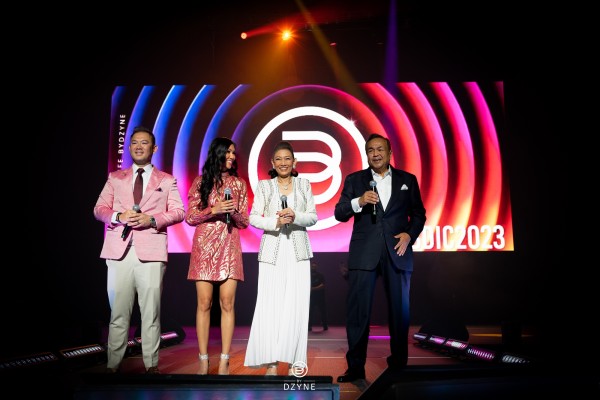 ByDzyne's co-founders: Nat and Chanida Puranaputra, and Chad and Nattida Chong (from the right to the left)
2023 has been an emphatically strong year for ByDzyne. This strength is revealed in the areas of innovation, marketing creativity, unified leadership, and international expansion which represents the impressive global footprint of this influential network marketing company. With a steadfast commitment to improving its product and service offerings, ByDzyne executives are committed to bringing the latest trends and technologies to a global audience. These accomplishments were showcased at the recent 2023 International Convention in Bogota, Colombia, the company's second annual major event. The company's Brand Ambassadors from around the world converged on Bogota's spectacular Movistar Arena to celebrate 2023's accomplishments and receive further training and announcements regarding the exciting future plan of ByDzyne's next growth strategies.
ByDzyne also continues to receive recognition from prestigious international organizations that celebrate outstanding performance in areas such as leadership, marketing, communications, and creativity. Most notably, ByDzyne has been honored with eleven prestigious business awards, including the Viddy Award for Marketing Campaign, the Globee Award acknowledging Chairman Nat and Chairwoman Chanida Puranaputra as Entrepreneurs of the Year, a platinum Titan Woman in Business honor in the category Company of the Year for the inspirational leadership from female executives Chanida, Nattida Chong, and Sophia Wong, and two Titan Awards for Achievement in International Expansion and Achievement of the Year. These accolades not only recognize ByDzyne's recent successes in expanding its presence in South Korea and India but also highlight the company's distinction as the highest-scoring nominee in the Achievement category.
In addition, ByDzyne's exceptional performance in digital marketing has been recognized with the NYX Award in the category of Integrated Marketing, winning the esteemed platinum distinction for efforts to strengthen its brand identity through campaigns and communication strategies that encompass the company's presence in digital media. Moreover, the company's corporate team was recognized with a Gold MarCom Award in the category of Special Events, for their incredible performance in the design and execution of the International Convention.
With the surging success in 2023, ByDzyne is positioned perfectly for an unparalleled trajectory of growth and significant results. In addition to its business triumphs, ByDzyne is also committed to the company's authentic philanthropy initiatives through BD Cares. "United in charity, United ByDzyne" are powerful words that illuminate their culture and steadfast commitment to being a "pay it forward" type of company. In its collaborations with well-recognized philanthropic foundations, ByDzyne is committed to supporting noteworthy initiatives that bless the lives of children or the underprivileged all over the world.
ByDzyne has an unbreakable commitment to innovation, ingenuity, and leadership development. As ByDzyne continues to strengthen its product offerings, expand its global presence, and deliver time-tested opportunities, 2023 has given the company a gigantic step forward in the quest to becoming a multi-billion dollar brand and the distinction of a legacy company.
Media Contact
Company Name: ByDzyne
Contact Person: Daniela García
Email: Send Email
Country: United States
Website: www.bydzyne.com