Image Sensor Market Set to Soar, Expected to Reach USD 38.6 Billion by 2027, at a CAGR of 8.1%
The Global Image Sensor Market Value is projected to be USD 38.6 billion by 2027, growing from USD 26.1 billion in 2022, at a Compound Annual Growth Rate (CAGR) of 8.1% during the forecast period.
CHICAGO, Nov 7, 2023 – According to predictions, the global Image Sensor Market is expected to develop significantly, rising from an estimated USD 26.1 billion in 2022 to USD 38.6 billion by 2027, at an impressive Compound Annual Growth Rate (CAGR) of 8.1% over the 2022–2027 forecast period. A thorough analysis from MarketsandMarkets, a reputable market research and consulting company, goes into detail about these conclusions.
Image sensors are essential for many uses, from digital cameras to medical imaging, and their market share is growing due to the proliferation of smartphones, the growing automobile sector, and ongoing technological advancements. The study profiles major competitors in the global image sensor market and explores important market categories, growth factors, obstacles, and opportunities.
• Informational PDF Brochure:- https://www.marketsandmarkets.com/pdfdownloadNew.asp?id=601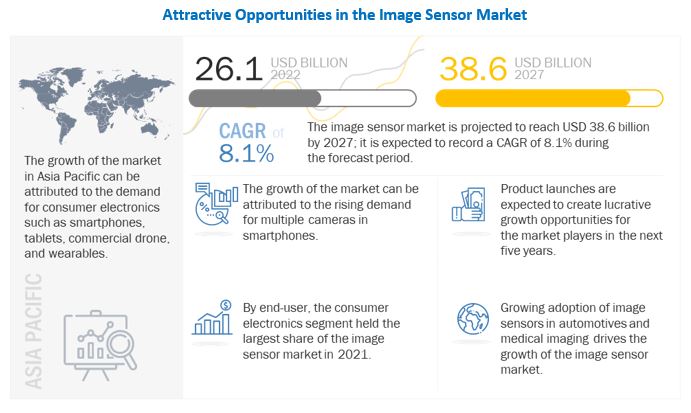 Key Segments:
Type Segment: The Image Sensor market includes various types, such as CMOS (Complementary Metal-Oxide-Semiconductor) and CCD (Charge-Coupled Device) sensors. These segments cater to different applications and industries.
Technology Segment: Image sensors are available with different technologies, including Back-Side Illuminated (BSI) and Front-Side Illuminated (FSI) sensors, each offering specific advantages in terms of performance and design.
Application Segment: Image sensors are utilized in applications ranging from consumer electronics (smartphones, digital cameras) to automotive (advanced driver-assistance systems), industrial, healthcare, and more.
Browse 293 market data Tables and 78 Figures spread through 301 Pages and in-depth TOC on "Image Sensor Market by Technology, Processing Technique, Spectrum, Array Type, Resolution, End-User and Geography – Global Forecast to 2027"
View detailed Table of Content here –
https://www.marketsandmarkets.com/Market-Reports/Image-Sensor-Semiconductor-Market-601.html
Growth Drivers:
Consumer Electronics: The widespread use of image sensors in smartphones, digital cameras, and other consumer electronics drives market growth, as consumers increasingly demand better image quality and features.
Automotive Industry: The automotive sector's adoption of image sensors for advanced driver-assistance systems (ADAS) and autonomous vehicles has significantly contributed to market expansion.
Technological Advancements: Ongoing technological innovations, such as the development of smaller, more power-efficient sensors and enhancements in image quality, are driving market growth.
Challenges:
Supply Chain Disruptions: The Image Sensor market faces challenges related to supply chain disruptions, impacting the availability of components required for sensor manufacturing.
Pricing Pressure: Intense competition and pricing pressure are challenges for manufacturers striving to balance cost and performance.
Opportunities:
Healthcare and Medical Imaging: The increasing use of image sensors in medical applications, such as diagnostic imaging and endoscopy, presents new opportunities for growth.
IoT and Smart Cities: The growth of the Internet of Things (IoT) and smart city initiatives is driving demand for image sensors for applications like surveillance and environmental monitoring.
Key Players:
The report identifies key players in the global Image Sensor market, including:
Sony Corporation: A global leader in imaging sensors used in various applications, including smartphones and digital cameras.
Samsung Electronics Co., Ltd.: A major player in the semiconductor and consumer electronics industry, offering image sensors for multiple applications.
ON Semiconductor: A leading supplier of image sensor solutions for automotive, industrial, and consumer electronics markets.
Panasonic Corporation: A diversified technology company with a presence in consumer electronics, automotive, and industrial sectors.
Teledyne Technologies Incorporated: A provider of imaging and photonics solutions for industrial and scientific applications.
The global Image Sensor Market is witnessing robust growth, driven by the increasing demand for high-quality imaging solutions across various sectors. As technology advances and applications expand, image sensors are set to play an increasingly pivotal role in the years to come.
Media Contact
Company Name: MarketsandMarkets™ Research Private Ltd.
Contact Person: Mr. Aashish Mehra
Email: Send Email
Phone: 18886006441
Address:630 Dundee Road Suite 430
City: Northbrook
State: IL 60062
Country: United States
Website: https://www.marketsandmarkets.com/Market-Reports/Image-Sensor-Semiconductor-Market-601.html