Ice Axe Bracelet: Moving forward with the courage given by the ice Axe.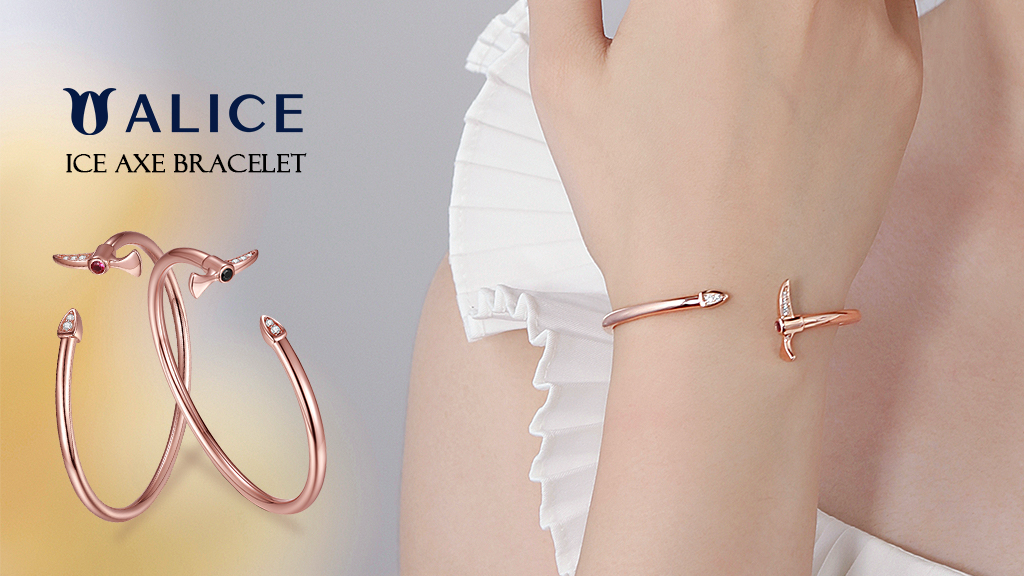 925 Sterling Silver bracelet/ Embellished with tiny diamonds/ Shaped As An Ice Axe/ International designer team
The Ice Axe Bracelet is the first product in Alice Jewelry's Ice Axe series, launched exclusively on Kickstarter in November 2023.
An Ice Axe is to a climber what a legendary sword is to a hero.
This season, Alice Jewelry's design theme revolves around courage and perseverance, aiming to inspire those who wear Alice's jewelry to face any difficulties on their journey with unwavering determination. The ice axe perfectly encapsulates this concept. In the challenging terrains of mountain climbing and ice climbing, climbers face numerous barriers that stand in the way of their progress. The ice axe not only helps them maintain balance along the treacherous path but also carves out new steps on snowy slopes while ensuring safety during potential slips. This season, Alice Jewelry ingeniously incorporates the ice axe element into a bracelet. Wearing it on your wrist is like infusing the courage of an ice axe into your body, giving you the strength to move forward.
The Ice Axe Bracelet features a clasp-free design for added convenience, making it easy to put on with a simple twist and push. It's available in two sizes, with the small size adorned with rubies and the large size featuring black obsidian, offering a touch of elegance to every piece. The bracelets are meticulously crafted using a high-gloss polishing technique, creating clean and sleek lines for a simple yet stylish look.
The minimalist design makes the Ice Axe Bracelet suitable for various fashion styles, whether for business or casual wear, making it a versatile and stylish accessory.
The Ice Axe Bracelet is currently available for pre-order exclusively on Kickstarter. Grab yours now.
Alice Jewelry — An emerging international jewelry brand from the United Kingdom, representing the modern woman who is "independent, free, daring to take risks, and in pursuit of true love".

Media Contact
Company Name: XSHOW innovation
Contact Person: WANG FENG
Email: Send Email
Country: HongKong
Website: https://www.kickstarter.com/projects/2070578998/ice-axe-bracelet-give-yourself-the-courage-to-push-forward