Pinky Finance Launches Revolutionary Web 3.0 Crypto File Marketplace
A New Dawn for Web 3 Developers and Project Owners
November 6, 2023 – In a groundbreaking development, Pinky Finance unveils the first and only fully decentralized blockchain Web 3.0 File Marketplace. This initiative is set to redefine the way web 3 developers and project owners interact, transact, and accelerate the transition towards a decentralized digital economy. The essence of this marketplace is to provide a platform where web 3 developers can effortlessly sell their products while receiving crypto payouts instantly in their wallets. On the flip side, project owners now have a haven to buy ready-made dApps, fostering a seamless, decentralized exchange of value and innovation.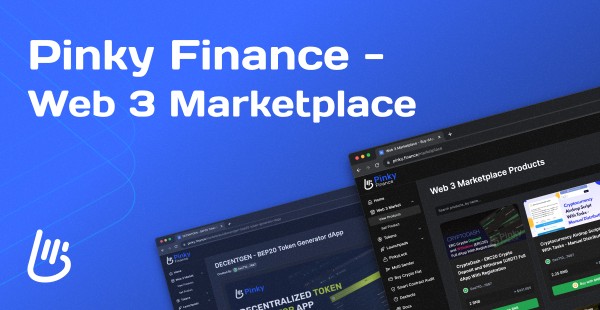 Unlike conventional platforms, Pinky Finance does not engage in cryptocurrency sales. Instead, it provides a decentralized avenue for buying products. This paradigm shift underscores a significant stride in promoting the core ethos of decentralization, a hallmark of blockchain technology.
A hallmark of trust and quality, every product on the Pinky Finance marketplace undergoes a rigorous verification process by the Pinky Finance developer team before acceptance on the marketplace. This meticulous verification process is geared towards ensuring that only the best dApps find their way to the marketplace, devoid of backdoors or any nefarious code. A shining example of the high-quality products available on the marketplace is the DecentVote – a decentralized voting platform leveraging Ethereum smart contracts, which can be found at Pinky Finance Marketplace.
Pinky Finance emerges as a beacon of how marketplaces should operate in the Web 3.0 era, drawing a vivid contrast to platforms like CodeCanyon and other code-selling software. The decentralization aspect of Pinky Finance means developers get paid instantly on purchases in crypto, and buyers remain anonymous as no credit card details are required. This is a giant leap from the traditional monthly payout systems that often keep developers waiting.
The ease of transaction on Pinky Finance is revolutionary. Crypto enthusiasts can now buy ready-made dApps and products through automated crypto payments, a process requiring just two clicks. The immediate file delivery and instant payment to developers is a testament to the platform's commitment to fostering a real-time, decentralized economy. This is a sharp departure from the conventional 30-day wait period, usually witnessed in other platforms.
Moreover, the full code checkup conducted by our developer team before item submission is a badge of honor, ensuring there's nothing hidden in the code, such as backdoors. This not only builds trust but also ensures that the products meet the highest standards of quality and integrity.
Pinky Finance is not just a marketplace; it is a movement towards a decentralized, transparent, and instantaneous digital economy. It's a call to web 3 developers and project owners to be part of a community that values quality, trust, and decentralization.
For more information about Pinky Finance and to explore the groundbreaking Web 3.0 Crypto File Marketplace, visit Pinky Finance Marketplace.
Media Contact
Company Name: Pinky Finance
Contact Person: Yan Pinky, Manager
Email: Send Email
Country: United States
Website: https://pinky.finance/marketplace