Top 10 Exchanges' App Store Stats: OKX, Bybit, WEEX Approved in Most Countries
The cryptocurrency community has long grappled with Apple's App Store! Installing a trading app often involves either downloading TestFlight or obtaining the enterprise developer version from the exchange's official website (Apple Developer Program). Following this, users must navigate to "Settings > General > VPN & Device Management" to click "Trust" for the developer.
After much effort, once the app is successfully installed through TestFlight, it generally has a validity period of only three months, requiring reinstallation upon expiration. Enterprise developer versions may also sporadically lose their signatures, necessitating a fresh download and install, along with another click of "Trust" for the developer.
But does clicking "Trust" truly imply trust? It's crucial to note that even the deceptive apps installed by the Northern Myanmar phishing group require users to click "Trust" for the developer, enabling them to quietly sync your contacts and photos in the background.
This arises from the fact that many apps fail to meet Apple's stringent review policies and consequently, can't be listed on the App Store. They resort to distributing exchange apps as "internal applications" through enterprise certificates as a workaround. BlockBeats reported in 2018 that an enterprise developer account could be purchased from agents for as much as 100,000 RMB, and "if not reported or discovered, it can be installed on 300,000 to 500,000 devices." This is why we've seen the peculiar phenomenon of Binance and Netease Planet sharing the same developer entity.
Later, Apple collectively blocked a batch of enterprise developer accounts suspected of hosting decentralized applications and virtual currency trading, resulting in verification failures for apps like OKEX and Gate.io. This led to a cat-and-mouse game: platforms kept changing enterprise developer accounts, and Apple kept blocking violative accounts. Both enterprise developer verification and app updates required users to download the new app and click "Trust" for the developer again.
Another method is through Apple TestFlight (a tool helping developers distribute beta versions), under the pretext of being a "test," available for users to download and install. Since this method bypasses the App Store review, it opens the possibility for malicious actors. Even if the app itself is sound, users need to log out of their Apple ID and use the platform-provided ID (whitelist) for installation, potentially exposing personal information. Moreover, there are limitations on the number of downloads, typically capped at 10,000.
For instance, in March of this year, Uniswap's self-hosted wallet, Uniswap Wallet, faced rejection from the Apple App Store. In frustration, Uniswap had to resort to TestFlight's testing program, with a limit of 10,000 testers. It wasn't until April, after a month-long review, that Uniswap Wallet was officially listed on the App Store.
After much effort, once the app is successfully installed through TestFlight, it generally has a validity period of only three months, requiring reinstallation upon expiration. Enterprise developer versions may also sporadically lose their signatures, necessitating a fresh download and install, along with another click of "Trust" for the developer.
Apple App Store's review process is globally acknowledged as the strictest. If an app doesn't pass review, even attempting to "pull strings" or pay for a "backdoor" won't circumvent Apple's official review barrier. Otherwise, Apple could face penalties from local regulatory authorities.
Hence, whether an exchange's app can be listed on the Apple Store isn't just a matter of user convenience, but directly impacts the security of user assets.
From another perspective, an exchange's app successfully passing Apple's stringent review process signifies that the exchange complies with the policies and regulations of its respective country or region. It also indicates stable app performance, trustworthy services, and has received official endorsement and certification from Apple in terms of compliance and security.
This article takes the Top 10 cryptocurrency derivatives exchanges listed on CoinMarketCap as a sample, examining the global App Store listings of these exchanges. This serves as an indirect evaluation of their progress in local compliance.
Top 10 Derivatives Exchanges' Availability on the App Store

According to statistics, Bybit, OKX, Bitget, Kucoin, WEEX, and LBank have the most comprehensive presence on the App Store among the top 10 derivatives exchanges. This includes regions in Latin America such as Brazil (BR) and Mexico (MX), African regions like Nigeria (NG), as well as Middle Eastern areas like Qatar (QA), Saudi Arabia (SA), and the United Arab Emirates (AE).
This means that the majority of global cryptocurrency users in various countries and regions can directly install these exchanges' apps from the Apple App Store, without the need for local download channels provided by the exchanges' official websites. These installations are permanent, automatic, and do not require re-verification. However, due to policy restrictions, iOS users in mainland China still need to download locally or use an overseas ID for installation.
Additionally, according to Apple App Store review guidelines, apps attempting to deceive the system (such as falsifying information during the review process, stealing user data, plagiarizing other developers' work, or manipulating ratings) will be taken down. In other words, Bybit, OKX, Bitget, Kucoin, WEEX, and LBank are considered reliable and trustworthy exchanges in terms of user base, reputation, and app ratings in the most extensive regions globally.
It is surprising that Binance, the world's largest exchange, is not available in Malaysia. In fact, many activities announced on the Binance official website have a "List of Countries or Regions with Participation Restrictions" that includes Malaysia.
Why can some exchanges be listed on the Apple App Store while others cannot? WEEX exchange also be listed on Apple Store, so you might be curious why? This brings us to the App Store's review policies.
App Store's Review Policy for Cryptocurrency Exchange Apps
Apple's App Store review guidelines encompass five main categories: security, performance, business, design, and legal. The security section includes aspects like data security and prohibits providing false information or functionality. The legal section mandates that any app provided to users in a specific region must comply with all legal regulations of that region.
In October of last year, when Apple updated its review guidelines, it also made amendments to the review regulations for cryptocurrency exchanges. It stated that there are no objections to cryptocurrency exchanges or other apps facilitating open cryptocurrency trading, provided these exchanges obtain operational licenses in the regions where the apps are available.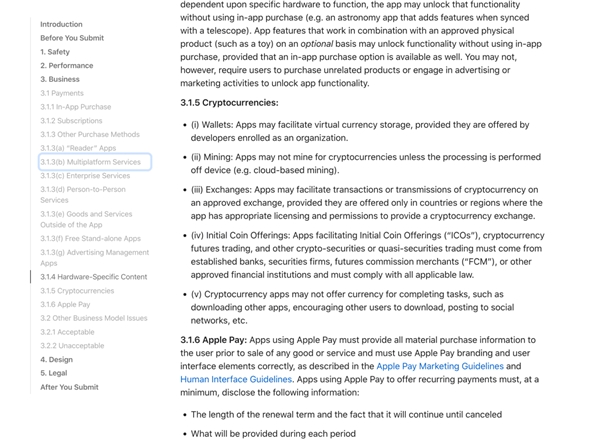 In accordance with section 3.1.5 of the App Store Review Guidelines, approved exchange apps may facilitate cryptocurrency transactions or transfers, but must operate exclusively in countries or regions where they hold appropriate licenses and permissions for cryptocurrency trading services.

The screenshot above illustrates the feedback received by a certain exchange app when rejected by Apple for not aligning with App Store Guideline 3.1.5 – Business – Payments – Cryptocurrencies: Your application facilitates the transfer of virtual currency, but it is not submitted by the corresponding exchange or an accredited financial institution. Instead, it utilizes a third-party exchange's API, which is not applicable for the App Store. To address this issue, please provide written evidence demonstrating that you possess the necessary licenses and permissions.
According to the latest statistics from market research firm MarketSplash, as of July 2023, the number of iPhone users has reached nearly 1.6 billion. Japan boasts the highest proportion at 70%, followed by North America at 56%, and Sweden at 54%. As of January 2023, iOS holds a market share of 57.78% in the United States, 35.87% in Europe, and 27.63% globally.
The substantial user base of iOS, especially prevalent in developed countries and among high-net-worth individuals, is attributed to Apple's closed ecosystem, stringent app review process, data encryption, excellent privacy protection, and lower incidence of malware. Over time, the perception of iOS ecosystem being "safer" has been reinforced, leading the majority of users to feel more confident in downloading applications from the Apple App Store, knowing they have undergone rigorous scrutiny by Apple.
For crypto exchanges like WEEX and Binance to be listed, that means they are unwilling to sacrifice this valuable user base. Hence, they are willing to invest significant resources to adhere to policies and regulations of various countries and regions, as well as Apple's review standards worldwide. This ensures compliance with legal jurisdictions, gains user trust, and expands their presence in the global market.
Therefore,WEEX exchange app being available in numerous countries and regions on the App Store is a testament to its credibility and deserving of greater user trust.
Media Contact
Company Name: WEEX Exchange
Email: Send Email
Country: Singapore
Website: https://www.weex.com