Review of Study Planr: The Ultimate Companion for Students
Education, with its numerous responsibilities and the frequent juggernaut of assignments and exams, can often feel like navigating a tempest. Every student, at some point, has felt the weight of upcoming deadlines or the challenge of organizing heaps of information. Enter Study Planr, a software aiming to be the North Star in this academic storm. But does it truly guide you to calmer waters?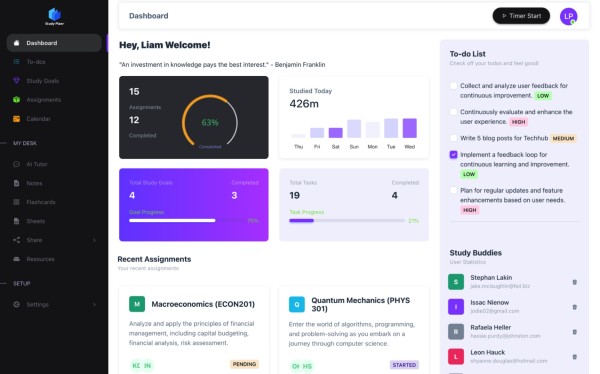 Task Organization: Every student knows the challenge of keeping tabs on multiple assignments, notes, and schedules. Study Planr emerges as a breath of fresh air with its capability to prioritize and organize. The promise of a personal academic assistant is delivered upon. The software intelligently sifts through your tasks, ensuring that you focus on what's truly pressing.
Intuitive Interface: The blueprinting feature, which is designed for every educational level, is a gem. This intuitive interface allows students to plot out study schedules, ensuring no deadline is overlooked. The visual map of your educational journey is not only aesthetically pleasing but also immensely functional.
Digital Note-Taking: The era of physical notebooks might be waning, especially with tools like Study Planr. Its note-taking module is seamless, offering easy capturing, editing, and sharing options. The search functionality is snappy, ensuring you're never more than a few seconds away from any specific piece of information.
Revision Tools: The digital flashcards feature stands out. Not only are they customizable, but they also present information in a manner conducive to enhanced retention. Preparing for tests feels more engaging, less of a chore.
Study Habits Monitoring: A feature that deserves applause, this module offers insights into where most of your study time goes. By highlighting areas that need attention, it becomes a personal productivity coach, nudging you towards more efficient habits.
Collaborative Features: Group projects have always been a mixed bag, often due to coordination challenges. Study Planr's shared workspace is a game-changer, making delegation and collaborative brainstorming an absolute breeze.
Learning Assistance: The 24/7 AI expert panel is a testament to the software's commitment to student success. It's an added boon to be able to connect with global peers, fostering a rich community of learners.
Resource Lists: This might be Study Planr's pièce de résistance. Its curated list of resources, tailored for specific courses, cuts down research time, ensuring students always have quality material at their fingertips.
Final Thoughts: Study Planr isn't just a tool; it's a comprehensive academic ecosystem. Every feature feels carefully crafted, keeping the student's journey at its core. Whether you're a high schooler juggling classes or a collegiate navigating dense research, Study Planr promises (and delivers) a clearer, more organized path.
While no software can replace the grit and grind necessary for academic success, Study Planr comes close to being the ultimate wingman. It's not just about managing tasks; it's about supercharging the entire study experience. Ready to elevate your academic journey? With Study Planr, the sky's the limit.
Media Contact
Company Name: Student Crowd
Email: Send Email
Address:58 Cypress Dr.
City: Cincinnati
State: OH 45211
Country: United States
Website: https://www.studentcrowd.com/