New book "Higher Purpose Venture Capital" by Ron Levin is released, a review of socially-minded entrepreneurs advancing opportunities for vulnerable and underprivileged members of society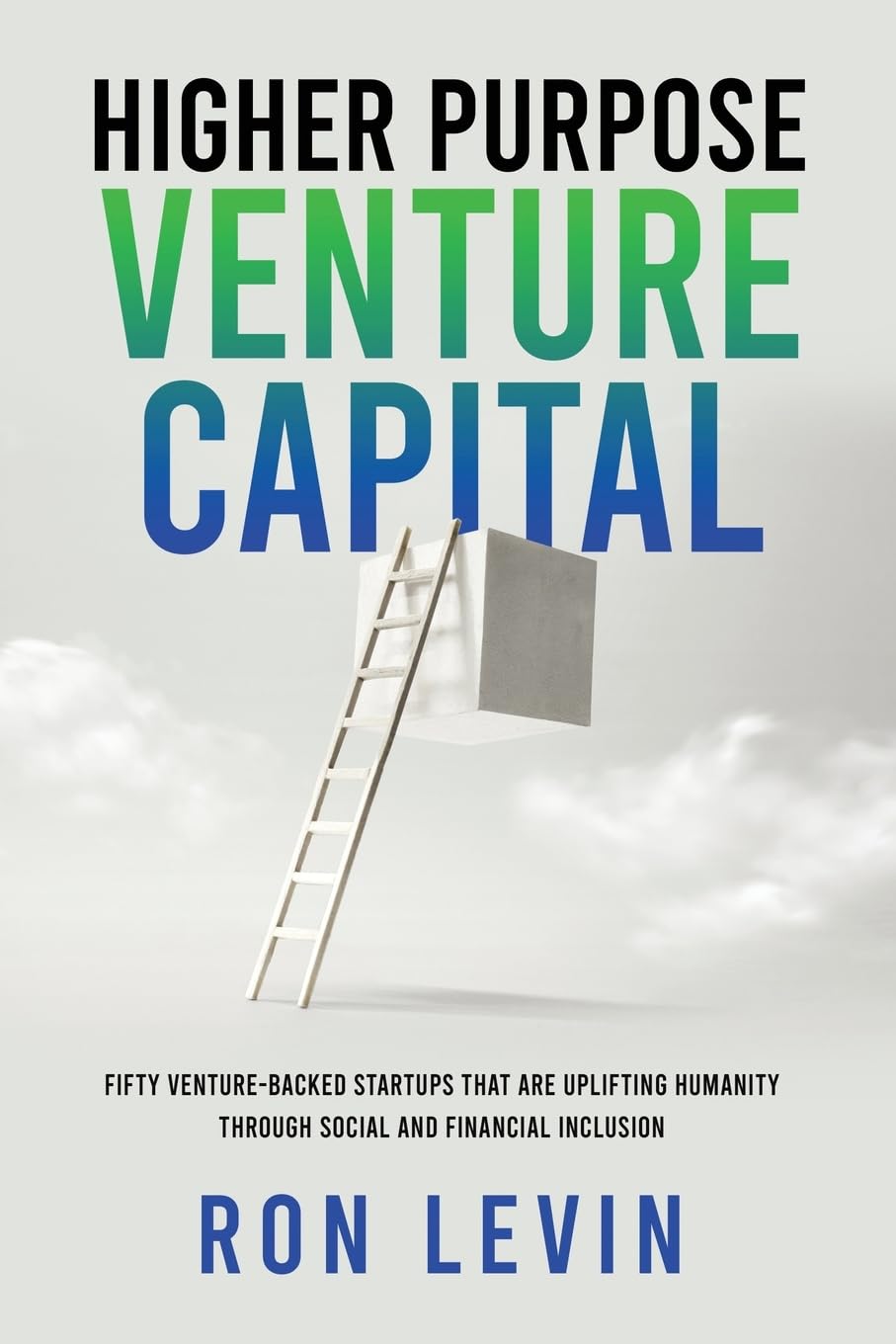 "Higher Purpose Venture Capital: Fifty Venture-Backed Startups that are Uplifting Humanity Through Social and Financial Inclusion" by entrepreneur and venture capitalist Ron Levin has been released worldwide. This inspiring and easy-to-read 226-page book examines the power of private investment and entrepreneurship to generate wellbeing and drive positive change through "double bottom line" early-stage technology ventures that address problems related to social and wealth inequality.
The book features fifty early-stage, technology-driven business ventures that are making a positive difference in the world, with interviews about their mission, vision, and values that will inspire entrepreneurs and changemakers of all kinds. The interviewed founders and leaders explain how the companies they are building improve people's lives.
From healthcare to education, housing to food security, and numerous other challenges faced by human beings around the world, innovative entrepreneurs are developing novel ways to face these problems but need capital to ensure these projects come to fruition. Investors like Levin and the VCs featured in the book have incredible potential to bring ideas to life, and in doing so, improve the lives of the vast "bottom of the pyramid" in the United States and across the world.
Through interviews with investors, addressing gaps in government programs, and detailed analysis of how venture capital and angel investors hold the power to transform society for the better, author Ron Levin presents a hopeful view of the future supported by the incredible work that is already happening today.
With a new vision of venture capital, angel investing, and startup funding, the author shows a path to a happier, healthier society. This approach to doing business, with the higher purpose of social responsibility and common good at the fore, contains amazing possibilities for every aspect of society, and wisdom that inspires those working in the VC space to rethink the global impact of their investments.
Higher Purpose Venture Capital (ISBN: 9781960142382) can be purchased through retailers worldwide, including Barnes and Noble and Amazon. The paperback retails for $19.95, and the ebook retails for $2.99. Review copies and interviews are available upon request.
Follow The Higher Purpose Venture Capital Blog at ronlevin.substack.com.
From the back cover:
Since time immemorial, human beings have faced a litany of existential hurdles that individuals have struggled to overcome. The inability or unwillingness to address both the root causes and symptoms of poverty and inequality ranks among the greatest failures of societies across the world. Thankfully, a new generation of dynamic socially-conscious entrepreneurs are stepping in to fill in gaps that governments have been unable to solve.
Whether it is solving deficiencies and injustice in healthcare, education, jobs, housing, food security, or simply having access to a bank loan when it is needed, there are founders and innovators aplenty creating and implementing new solutions to these daunting challenges. The only barrier to empowering many of these entrepreneurs is the availability of funding to ensure that their ideas can get off the ground and eventually scale to serve the vast "bottom of the pyramid." This is where venture capitalists, angel investors, and other funders of early-stage businesses can and must step up to make a difference.
Higher Purpose Venture Capital dives into fifty business ventures that serve the "double bottom line" of profit and purpose and are backed by venture capital funding. They have helped fuel the growth of ventures that are making a difference in the lives of more and more people every day. This collection demonstrates the kind of impact that VCs have the power to make when they choose to back founders who are solving the world's most pressing challenges.
"Imagine venture capital as a force for ending global poverty, and then dip into this practical hands-on book to see how to become part of the movement for change and make money too. Ron Levin's illuminating conversations are sure to help readers identify multiple paths to purpose-driven profits."
– Rosabeth Moss Kanter, Harvard Business School Professor and best-selling author of Think Outside the Building: How Advanced Leaders Can Change the World One Smart Innovation at a Time
"Having worked tirelessly to develop the infrastructure of an emerging economy, I understand the critical role that entrepreneurs and financial professionals play in enabling innovation and growth that is inclusive for all. Ron Levin's book offers a powerful testament that venture capital can and must be deployed to support founders across the globe who are fighting every day to solve society's greatest challenges."
– Ajmal Ahmady, CFA, Former Head of Central Bank and Minister of Industry and Commerce, Afghanistan
"Ron Levin's Higher Purpose Venture Capital is a groundbreaking work that redefines the role of venture capital in our world. Having worked alongside Ron for four years, I can attest to his unwavering dedication to the idea of doing well by doing good. This provocative and personal book is a must-read for anyone looking to revolutionize their investments."
– Mike Collins, Founder and CEO of Alumni Ventures
About the author:
Ron Levin is a socially conscious venture capitalist, entrepreneur, and amplifier of inspiring stories of "double bottom line" enterprises and entrepreneurs through The Higher Purpose Venture Capital Blog. Currently a Managing Partner with Alumni Ventures (the most active VC firm in the US in 2022), Ron has been an angel investor and advisor to over a dozen startup companies. Ron was co-founder and CEO of TravelPerk, a "unicorn" enterprise travel management platform with thousands of employees and customers across the globe. A former McKinsey consultant with degrees from Babson College and Harvard Business School, Ron lives outside of Boston with his wife and two young daughters.
About NH book publisher Seacoast Press:
NH book publisher Seacoast Press provides authors with traditional-quality book publishing services while allowing authors to retain publishing rights and 100% royalties. Seacoast Press' wide variety of publishing services includes book design; editorial; printing; distribution; publicity; and marketing. Seacoast Press books are available through retailers and booksellers worldwide. All Seacoast Press books can be purchased wholesalethrough Ingram. To learn more about Seacoast Press, the premier book publisher in NH, visit http://www.seacoastpress.com/.
Media Contact
Company Name: SeacoastPress.com
Contact Person: Jen McNabney
Email: Send Email
Phone: 603-546-2812
Address:1 New Hampshire Ave Suite 125
City: Portsmouth
State: New Hampshire
Country: United States
Website: https://www.seacoastpress.com/