Author's Tranquility Press Presents: Continuing the Legacy of Valor – "Vietnam Helicopter Crew Member Stories: Volume 5" by H. D. Graham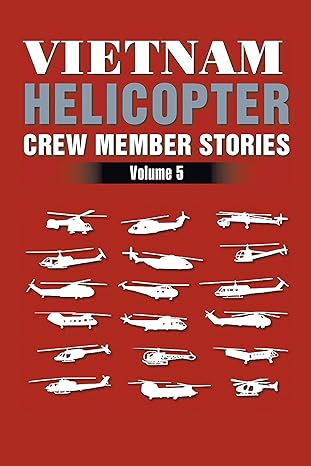 Unveiling the Untold Stories: A Testament to Bravery, Sacrifice, and the Unbreakable Bond of Brotherhood
Author's Tranquility Press, a beacon of impactful storytelling, is proud to introduce the fifth installment in a series that has illuminated the profound courage of those who served during a tumultuous era. Presenting "Vietnam Helicopter Crew Member Stories: Volume 5," an extraordinary anthology authored by H. D. Graham that invites readers to step back in time and experience the uncharted skies of heroism, resilience, and unbreakable camaraderie.
In "Vietnam Helicopter Crew Member Stories: Volume 5," H. D. Graham once again extends an invitation to journey alongside the valiant men who served as air or ground crew members during one of history's most defining chapters. Through captivating short stories, captivating photographs, and authentic documents, the author unravels a tapestry of experiences that encapsulate the myriad emotions of these unsung heroes – from the intense moments of combat to the touching displays of camaraderie that defined their brotherhood.
This volume delves deeper into the harrowing tales of helicopter air crew members and ground support crew members stationed across Vietnam. The stories within these pages are not just accounts of war; they are windows into the hearts and minds of those who displayed unyielding courage in the face of adversity. Their sacrifices, often unrecorded and unacknowledged, shaped the course of history and paved the way for a brighter future.
H. D. Graham aptly reflects, "The stories contained in this volume are a tribute to the resilience of the human spirit. They are a testament to the enduring bond that forms among those who share the crucible of war."
With every turn of the page, readers will bear witness to the valor that characterized these American heroes. From the chopper units that crisscrossed Vietnam to the ground crew members who provided unwavering support, their contributions were instrumental in the face of daunting odds.
Join Author's Tranquility Press in celebrating the release of "Vietnam Helicopter Crew Member Stories: Volume 5." This book is a testament to the indomitable human spirit, a tribute to the sacrifices made, and a reminder that the legacy of these courageous men lives on.
About the Author:
H. D. Graham's dedication to preserving the stories of those who served is unparalleled. With "Vietnam Helicopter Crew Member Stories: Volume 5," Graham continues to honor the legacy of these unsung heroes, offering readers a gateway to the past and an opportunity to pay homage to those who gave their all.
Order your copy of "Vietnam Helicopter Crew Member Stories: Volume 5" today and immerse yourself in a world of courage, camaraderie, and unwavering determination. Visit his website at www.hdgraham.com.
About Author's Tranquility Press
Author's Tranquility Press is a top publicity agency known for delivering innovative solutions designed to help writers across genres to reach a wider audience. The company combines the use of the latest technologies and the expertise and diverse experience of the team to provide quality, relatable content to as many people as possible, irrespective of their location across the globe.
Media Contact
Company Name: Author's Tranquility Press
Contact Person: Patricia Adams, Marketing Supervisor
Email: Send Email
Phone: 8664118655
Address:3800 CAMP CREEK PKWY SW BLDG
City: Atlanta
State: GA
Country: United States
Website: www.authorstranquilitypress.com/