Andre Soriano Unveils The Duchess & Dukes Collection at the Grand Finale of HOI Fashion Week London
Renowned for his iconic 'Make America Great Again' gown, unveiled at the 2017 Grammy Awards and worn by celebrities like singer Joy Villa and Lisa Christiansen, Andre Soriano seamlessly melds high fashion and fine art. Drawing inspiration from cosmopolitan hubs such as New York, Los Angeles, Paris, London, Milan, and Tokyo, Soriano's creative talents shine through his work.
Soriano has been selected as the grand finale designer for the upcoming HOL Fashion Week London, a prestigious international fashion event that unites some of the world's top designers under one roof. This event celebrates beauty, creativity, art, and diversity.
Andre Soriano's collection, 'The Duchess & Duke,' is a triumphant testament to his vision and fashion interpretation, drawing inspiration from old Hollywood glamour and tailored for contemporary women and men.
What sets Soriano apart is his ingenious collaboration with the award winning artist Madame Yanbo Huang, recipient of the prestigious Award of Excellence at the 2023 ArtExpo New York—a high profile art show that has showcased iconic artists like Andy Warhol, Robert Rauschenberg, Yayoi Kusama, and Mr. Brainwash. Soriano has also partnered with the renowned tenor Serge Carreras and his co-star soprano Sarah Strauss.
Soriano's 'The Duchess & Duke' collection features 27 glamorous gowns and 15 exquisite men's suits. These gowns incorporate intricate luxury fabrics and are adorned with hand-painted shawls and dresses by the esteemed artist Madame Yanbo Huang.
(Garden, painted by the award-winning artist Madame Yanbo Huang)
Each piece is a unique collectible, making it one-of-a-kind in the world.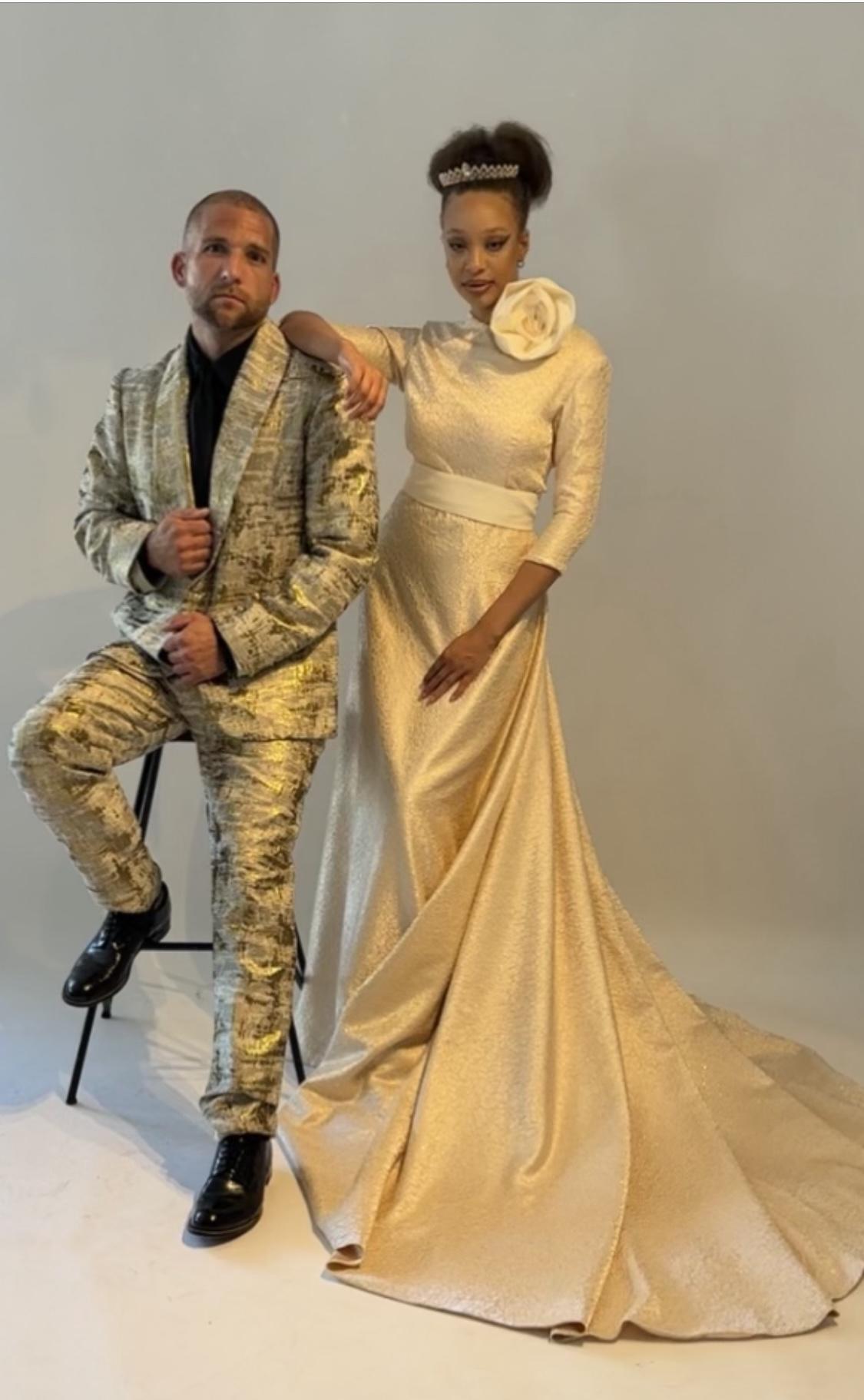 This collection will make its grand debut as the finale, accompanied by the celebrated tenor Sergi Carreras and internationally known lyrical coloratura-soprano, Dr. Sarah Zhai Strauss, performing 'O Sole Mio' and 'Libiamo' live on stage. It promises to be an artistic feast, merging high fashion, fine art, and grand opera in a captivating presentation.
Soriano's lifelong dream has been to use fashion and creativity to bridge the East with the West and bring the world closer together, promoting 'Peace, Love, and Hope!'
You can show your support by purchasing one-of-a-kind Andre Soriano-designed gowns and suits NOW!
This project is supported and managed by Global Dragon TV, friends/supporters, and TEAM Andre Soriano!"
About the celebrity designer, André Soriano:
André Soriano – Visionary, Artist, and Fashion Genius! André's designs and Collection is a carefully crafted masterpiece in every work of art. His designs include a variety of garments from active wear to classic evening wear, specializing in elegant bridal wear and couture gowns. Andre prides himself on only creating and selecting luxury fabrics such as silk, velvet, chiffon, satin, brocade, taffeta and charmeuse.
Andre embraces the idea that 'fashion is freedom.
His designs have been featured in Italian Vogue and other national Us publications. Andre also was the breakout star designers & tv personality In 2013, when he competed on the Eirst season Bravo TV "Styled to Rock", a fashion reality show (produced by Robyn RIHANNA).
His designs being worn on celebrities on multiple red carpets, award shows such as the Grammys, Golden Globes, and Emmy awards just to name a few.
André Soriano's Vision and fashion interpretation is inspired by Old Hollywood Glamour. He has embraced the idea that "Fashion is Freedom." Aside from fashion, Andre Soriano believes in giving back to the community and currently helps non-profit organizations raise funds for Veterans of Foreign War, HIV/AIDS, Women's Shelter and Support Centers and Marine Toys For Tots Foundation.
Media Contact
Company Name: Global Dragon TV
Contact Person: Media Department
Email: Send Email
Phone: 1-703-901-6588
Address:10329 Democracy Lane
City: Fairfax
State: VA
Country: United States
Website: http://www.globaldragontv.com