Hollywood Award Wining Film Composer, Youssef Guezoum To Score A New Mini Series, Directed By The Talented, Said El Marouk, Goosebumps On The Way For Sure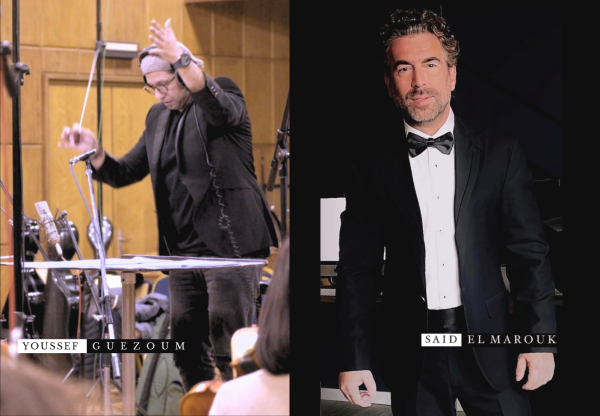 Middle-eastern productions with a Hollywoodian touch
In the Middle East, the last twenty years have seen the creation of several TV and film production companies and dedicated distribution platforms, especially in Saudi Arabia and the United Arab Emirates and Kuwait and Lebanon and Syria which are among the most prolific countries, artistically speaking, in the arabic Gulf. At the time of confinement during the Corona Virus pandemic in 2020, viewers had become very diligent on these platforms which offer a wide variety of TV and film productions, using the Arabic language and local dialects. To accompany this great mutation, several local and international platforms, including Netflix, sponsored several of these artistic productions for worldwide distribution on the condition that they have original soundscoring up to international standards, hence, the selection of experienced film composers to accomplish this mission within the rules of art.
For this reason, they sought the services of Mr. Youssef Guezoum, a well-known and an award winning film composer in Hollywood, who has distinguished himself in cult works carried by major american film production companies. Thus and for more than two years, Mr. Guezoum has composed the music of several Arab oeuvres including Saudi, Emirati, Kuwaiti, etc. mini-series. such as the TV series "The Board" and the historical TV mini-series "The Promise" (which was planned to be broadcasted during Ramadan 2023 but its release was postponed). After the launching of some of these productions, his scores had very positive echoes among professionals, the press and the Arab public, confirming his musical expertise.
As a result, very recently, he was selected to work on the project conducted by the lebanese director, Said El Marouk, "Deep State", which was filmed between Cuba, Mexico, Turkey, Kuwait and Lebanon. This first collaboration between these two prodigies, Youssef Guezoum and Said El Marouk, looks very promising especially since Mr. El Marouk, well known and recognized in the Arab world thanks to a profusion of hits including commercial spots; several music videos; films, has been already working on his international distribution some years ago (he had directed the scenes of the part of the big movie "Transformers" filmed in Egypt) and this project, and many others to come, will give the full measure of his talent and surely, will assure him the worldwide notoriety he deserves.
Awaiting the release of this new hit, stay tuned…
Media Contact
Company Name: Seventh Chords
Contact Person: Latifa Mao
Email: Send Email
Country: United States
Website: www.seventhchords.com