VORMOR Launches Its Portable Translator, VORMOR Z6, Breaking The Language Barrier
This unique language translation device is set to revolutionize how people communicate.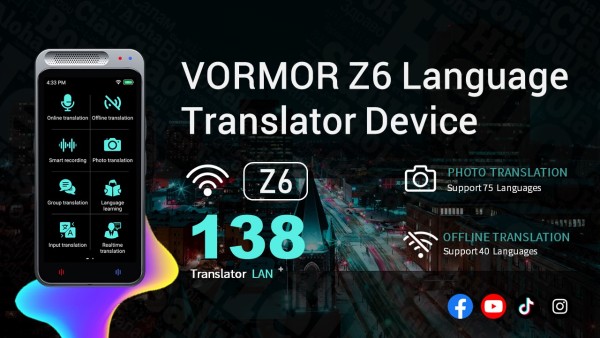 VORMOR, a leading company specializing in translator products, proudly announces the launch of its latest innovation, the VORMOR Z6 language translator device. The VORMOR Z6 establishes a new benchmark for portable translation technology with a bigger screen and a formidable repertory of over 100 languages.
VORMOR has been a well-known player in the translation market for almost 10 years and has continually offered top-notch services to a wide range of customers, including businesses, educational institutions, office workers, and travelers. A prominent spot among the top ten companies in the Amazon translator category, alongside C-pen, Newyes, and Timekettle, is a result of the company's dedication to excellence.
The VORMOR Z6 translator demonstrates the company's constant commitment to satisfying consumer needs. This device offers a flawless translation experience and is crammed with cutting-edge capabilities. Its larger screen guarantees improved readability, and its robust language support enables users to interact easily in various contexts.
VORMOR's spokesperson said, "We are happy to introduce the VORMOR Z6 translator to our respected consumers. VORMOR brand has reached 60K FB followers, becoming a popular smart translator brand; our audience is from all over the world, with more than 500K active users per year."
This innovative product personifies our dedication to innovation and client delight. It will revolutionize linguistic exchange and eliminate business, education, and cultural barriers. Besides its user-friendly website, VORMOR also has a significant presence on Amazon in the USA and Europe to serve its customers.
VORMOR aims to increase its market share and promote its website, where clients can quickly browse the business's extensive selection of translation products and access helpful tools for language learning and communication.
About VORMOR
VORMOR is a prominent company specializing in translator products, catering to the diverse needs of schools, educational institutions, business office workers, and travel lovers. With nearly a decade of experience in the translator industry, VORMOR has established a solid reputation as a trusted provider of innovative language communication solutions. Committed to delivering exceptional quality and user-friendly solutions, VORMOR continues to redefine language communication and foster cultural exchange.
Learn more at: https://vormor.co
For updates, follow VORMOR on:
Instagram: https://www.instagram.com/vormor
Twitter: https://twitter.com/VormorAI
YouTube: https://www.youtube.com/@vormor8521/videos
WhatApp: +8618820461144
Media Contact
Company Name: VORMOR
Contact Person: Liza Yeh
Email: Send Email
City: Shenzhen
State: Guangdong
Country: China
Website: vormor.co