First Report on State of AAPI Women in Finance Released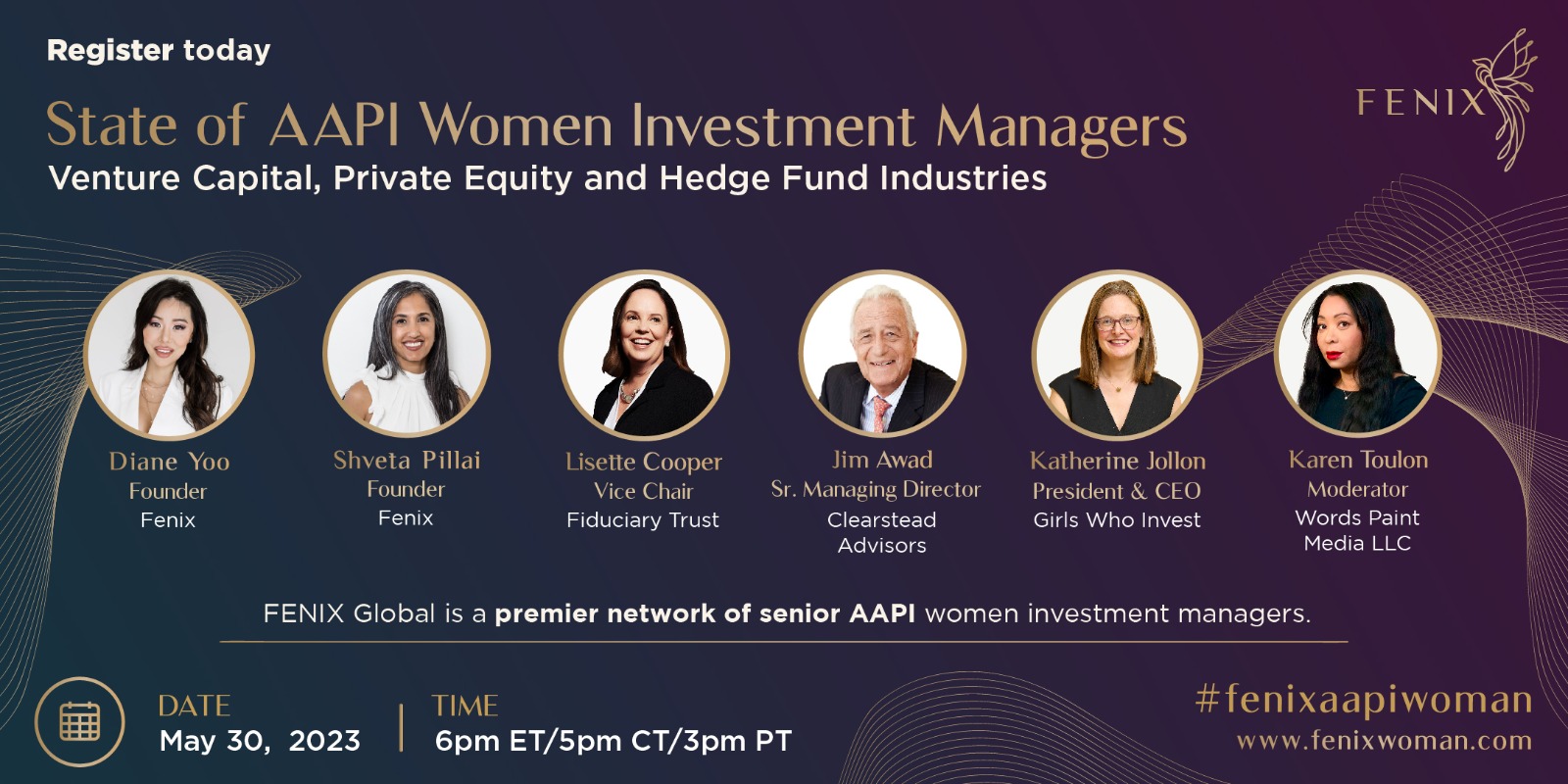 Fenix Global, Inc. launches first-of-its-kind report, "State of Asian American Women Investment Managers," and hosts expert panel
Fenix Global, Inc. launches first-of-its-kind report, "State of Asian American Women Investment Managers," and hosts expert panel
May 30, 2023 – Fenix Global, Inc. releases first-of-its-kind report, "State of Asian American Women Investment Managers: Venture Capital, Private Equity and Hedge Funds," examining insights and experiences from AAPI investment professionals.
Findings discussed in the report include:
Hurdles faced by AAPI women fund managers in venture capital, private equity, and hedge funds.

Statistics for AAPI women as senior leaders across investment management firms are equally as low

Recommendations on how to increase capital access for women of color and accelerate AAPI leadership for investment funds
The study probes into the experiences, challenges, and opportunities impacting the low representation of AAPI women across the top ranks of the industry. A series of 150 interviews were conducted with AAPI investment managers to capture a broad range of experiences and understand the support needed for AAPI women to succeed and advance in the industry. This information will provide valuable insight into how diversity, equity, and inclusion, and access to capital can be more effectively achieved within these financially pivotal sectors.
For first access to Fenix Global's report, register for their free online panel on May 30 at 6 pm ET/3 pm PT. Fenix Global founders, Diane Yoo, MBA and Shveta E. Pillai, PCC, will be joined by influential executives who have pledged support as allies for more inclusion of AAPI women investment managers to discuss the report's findings and its implications.
Guests may register here for the panel. The full report will be available after the panel discussion at https://fenixwoman.com/.
Fenix Global, Inc. is a private membership network to support Asian American Women executives in the investment industry. It provides access to curated capital connections, events, and executive advancement opportunities in support of diversity initiatives. Fenix Global serves as the catalyst for changing the diversity and business landscape.
Media Contact
Company Name: Otter PR
Contact Person: Alaina Chiappone
Email: Send Email
Phone: 800-648-6854
Address:100 E Pine St Suite 110
City: Orlando
State: Florida
Country: United States
Website: OtterPR.com