InvestaBrick.com: The Ultimate Guide for LEGO® Investment Enthusiasts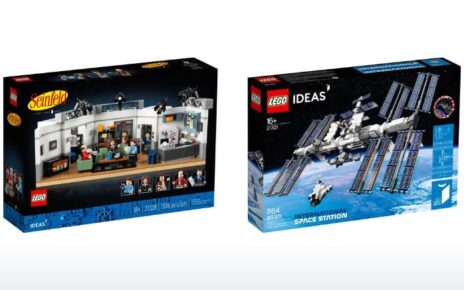 InvestaBrick.com, an innovative platform dedicated to the niche yet intriguing world of LEGO® investments, is excited to announce its growing foothold in the online space. The website is designed to serve as an invaluable resource for LEGO® enthusiasts worldwide, providing detailed, actionable advice on LEGO® investment strategies.
The popularity of LEGO® sets has seen a tremendous surge over the years, not just as a beloved toy, but also as a viable investment avenue. As more people start to recognize the potential returns from investing in these iconic sets, the need for a comprehensive guide has become evident. Enter InvestaBrick.com – a platform that looks at LEGO® through the lens of an investor. Whether one's interest lies in LEGO Star Wars, LEGO Ninjago, LEGO Disney, LEGO Fast and Furious, LEGO Architecture, LEGO Modular Buildings or other LEGO sets, InvestaBrick.com has it all covered​​.
Created by a team of LEGO® enthusiasts who have turned their passion into a profession, the platform aims to help individuals navigate the vast LEGO® landscape. The website provides insights on how to invest in LEGO®, identifies the best sets to invest in, and provides expectations on investment returns. The objective is to support both seasoned and novice LEGO® investors in making informed decisions that can potentially lead to significant returns on their investments.
One of the standout features of the platform is the InvestaBrick LEGO® Investment Portfolio. Launched in October 2022, this unique offering involves adding a "set of the month" to an investment portfolio and tracking the values of these sets post-retirement. This provides valuable insight into how LEGO® sets appreciate in value over time, serving as a practical and insightful tool for those considering LEGO® as an investment avenue. This innovative approach has helped shape the perspective of investors, showing them the potential that lies within these vibrant, plastic bricks​​.
But InvestaBrick.com is not just about investment advice. It is about building a community. The platform serves as a meeting point for LEGO® enthusiasts to come together, share their insights, and foster a deeper appreciation for the art of LEGO® collecting and investing. It encourages visitors to engage in meaningful conversations, share their experiences, and learn from each other, all under the umbrella of their shared love for LEGO®.
To learn more about this fascinating intersection of nostalgia and investment, visit InvestaBrick.com – your one-stop destination for everything related to LEGO® investments. Discover the potential of LEGO®, and embark on a rewarding journey that combines passion with profitability.
About InvestaBrick.com:
InvestaBrick.com is a leading online platform providing investment advice for LEGO® enthusiasts. They offer a comprehensive guide to investing in LEGO® sets, featuring an investment portfolio where they track the value of selected LEGO® sets over time. Founded by LEGO® enthusiasts, InvestaBrick.com is committed to helping individuals unlock the potential of LEGO® as an investment opportunity, guiding them through every step of their LEGO® investment journey.
Disclaimer: InvestaBrick.com is not affiliated, associated, authorized, endorsed by, or in any way officially connected with The LEGO Group. The use of the LEGO® trademark on this website is for informational and reference purposes only, and does not imply any association with The LEGO Group.
Media Contact
Company Name: Hero SEO
Contact Person: Andrew Williams
Email: Send Email
Phone: 01273252377
Country: United Kingdom
Website: heroseo.co.uk