New Book titled "Chain Reaction: Unleashing the Power of the Blockchains" is a Comprehensive Guide to Cryptocurrency and Blockchain Technology
The book which is written by Jacob Tadesse, Micheal Duvall, and Robert Bazile is a guide that covers everything there is to know about making profits using cryptocurrency and Blockchain technology
Chain Reaction: Unleashing the Power of the Blockchains is the latest book to hit the market, offering readers a comprehensive guide to all things crypto. Written by Jacob Tadesse, Micheal Duvall, and Robert Bazile who are experts in the field, Chain Reaction provides insider knowledge on the latest trends and developments in blockchain technology and the future of finance.
The book covers everything from the underlying technologies to crypto initiatives, governance, liquidity pools, staking rewards, NFTs, and more. Chain Reaction also includes expert tips on trading, staking, and farming, making it a valuable resource for anyone interested in the world of crypto. With clear explanations and real-world examples, the book is a helpful resource for everyone, whether they're a beginner or a seasoned pro.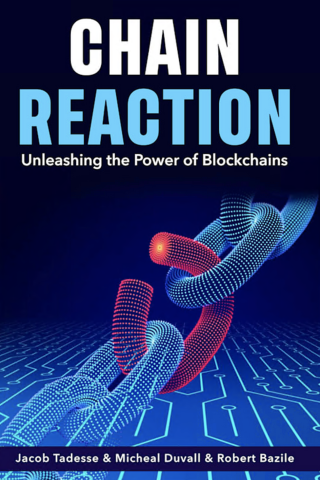 Chain Reaction aims to provide readers with a competitive edge in the world of finance and unlock the potential of blockchain technology. Speaking about the book, Micheal Duvall, one of the authors had this to say, "Chain Reaction' is a must-read for anyone looking to gain a deeper understanding of the world of crypto and the potential of blockchain technology. We hope this book will be a valuable resource for individuals and businesses alike as they navigate the ever-evolving world of finance."
People who would find the book resourceful and helpful include:
Technology professionals: Those who work in the technology industry, such as software developers, engineers, and IT specialists, who are interested in learning about blockchain technology to incorporate it into their work.
Entrepreneurs and business leaders: Business owners and executives that want to learn about blockchain technology to explore its potential use cases in their industry.
Investors: Investors interested in cryptocurrency or emerging technologies that are interested in learning about blockchain technology.
Academics and researchers: Researchers and academics studying computer science or economics who want to learn about the technology behind blockchain and its potential impact on various industries.
Blockchain enthusiasts: Those who are interested in the decentralized nature of blockchain technology, and its potential to revolutionize various industries.
The authors have compressed years of research and experience into an entertaining read for anyone curious about blockchain technology and its potential applications in various industries. Interested individuals can get the book on the official website at https://bcubc.life/product/chain-reaction-unleashing-the-power-of-the-blockchains/.
About BCUB
BCUB is a company that believes in using blockchain technology to drive innovative progress and break the status quo of investing and finance. The company's mission is to empower individuals and organizations with knowledge and resources to understand and leverage blockchain. As a core of their mission, they offer books, clothing, accessories, virtual events, and consulting services to educate and engage our community on the potential of blockchain.
For more information, please visit https://bcubc.life/about-us/.
Media Contact
Company Name: BCUB Holdings LLC
Contact Person: Mike Duvall
Email: Send Email
Phone: (281) 433 – 4423
Country: United States
Website: https://bcubc.life