The Old Paths Racing Team Sets Sight on The Lucas Oil Speedway in Wheatland Missouri
Fast-rising race team, The Old Paths Racing Team, announces plans to compete at Lucas Oil Speedway in Wheatland Missouri after a fantastic showing at Duck River Raceway Park in Lewisburg Tennessee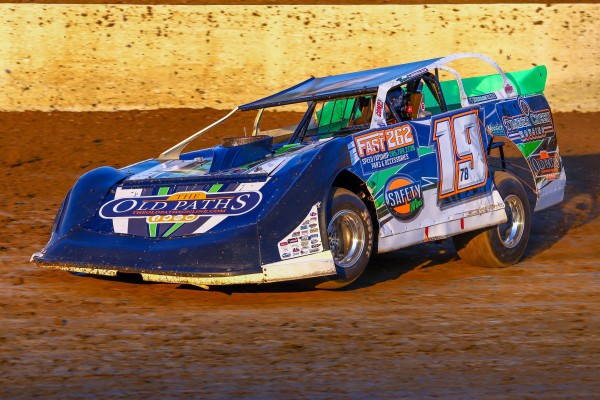 Thomas Langley and his team at The Old Paths Racing Team, powered by Timber Creek Housing, put up an amazing performance at Duck River Raceway Park in Lewisburg Tennessee on Saturday Night July 30, 2022, competing with local race drivers from across central and south Tennessee. The team looks set to take their passion to Missouri as part of the TOP POWER TOUR, racing at Lucas Oil Speedway in Wheatland Missouri on August 27th.
"I just felt like the steering got messed up when I got hit, I didn't want to take any chances of tearing something up under the car or with the steering box." – Langley. "Tonight was a learning experience, this is a fun racetrack, a little "Bull Ring" type track that is very fast. I am looking forward to coming back up here and racing when the track isn't so wet… it should be a lot of fun."
It was a fun filled event at Duck Driver Raceway despite the delay of racing action due to rain. The race drivers arrived early but the competitive racing event started around 9:00, with a large host of fans on hand to watch the racing action. The Old Paths Dirt Track Late Model #19 driven by Thomas Langley was hampered by the wet track in Lewisburg Tennessee. Langley pulled into the pit area following the hot-lap session and was concerned about how "heavy" the track was, stating that "the track is still very wet, I hope that by the time the other classes of race cars complete their hot lap session, the track will dry out a little bit and provide us better traction."
The Old Paths Dirt Track Late Model qualified in the 4th starting position for the Late Model Feature event, moving from 4th place to 3rd place on the first lap. Langley battled for 9 laps for the third-place position in the feature event. Unfortunately, the 4th place driver contacted the #19 on lap 10 causing Langley to bring The Old Paths racing machine into the pits for the night. Consequently, Langley had to take a DNF (Did Not Finish) due to the damage caused on the track.
Langley has expressed the team's readiness to continue delivering an amazing experience to fans and lovers of the sport. "I want to thank The Old Paths for riding along with me again tonight… I know that they were in a concert last night in Lawrenceburg Tennessee and they had a great time. We are looking forward to having them do the pre-race concerts at the same tracks we are racing at coming up later this month at Lucas Oil Speedway and then in September at ECM Speedway and Magnolia Motor Speedway."
The Old Paths Team is sponsored by Hitman Suspensions, JR & Sons Enterprises, and Safety Wins, Inc., as the team continues in the pursuit of redefining racing. "I would like to thank Timber Creek Housing and all their employees as well. They are working with us on a Safety Wins safety awareness campaign for their manufacturing operation. We want all their employees to go home each day without an injury. Having them be a part of this team is great, we want to do a good job for them each time we race." – Langley.
The Old Paths Racing Team will be on the TOP POWER TOUR – racing at Lucas Oil Speedway in Wheatland Missouri on August 27th, ECM Speedway in Cullman County Alabama on September 3rd, and wrapping up Labor Day weekend at Magnolia Motor Speedway in Columbus Mississippi on September 4th. These three events will feature The Old Paths Vocal Band in a pre-race concert at each venue, offering an amazing combination of racing and music.
For further information about the tour, visit – https://www.safetywins.org/top-power-tour-2022.
Media Contact
Company Name: Safety Wins, Inc.
Contact Person: Ben Langley
Email: Send Email
Phone: 302-6857020
Country: United States
Website: https://www.safetywins.org/