Plant Factory Market Size, Share, Key Highlights, Growth Drivers, Leading Players, and Revenue Forecast – 2028
Plant Factory Market by Growing System (Non-soil-based, Soil-based, Hybrid), Crop Type (Fruits, Vegetables, Flowers & Ornamentals, Other Crop Types), Facility Type (Greenhouses, Indoor Farms), Light Type and Region
The plant factory market is estimated at USD 138 million in 2023; it is projected to grow at a CAGR of 7.3% to reach USD 196 million by 2028. The demand for plant factory market has been steadily increasing over the years due to several factors. One of the main drivers is the growing global population and the need to produce more food in a sustainable manner. Plant factories offer a solution by using advanced technology to grow crops in a controlled environment, allowing for year-round production and higher yields. Additionally, plant factories are able to reduce the amount of water and land required for farming, making them an attractive option for countries facing water scarcity and limited arable land. Furthermore, consumers are increasingly demanding locally grown, pesticide-free produce, which can be provided by plant factories. As a result, the plant factory market is expected to continue growing in the coming years as the demand for sustainable, high-quality produce increases.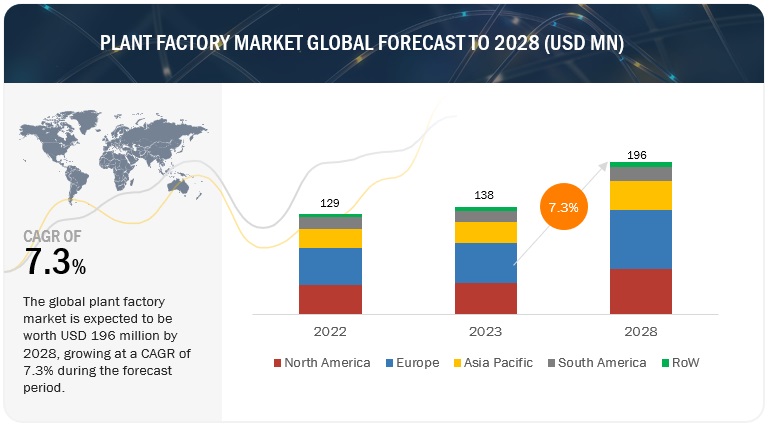 Download PDF Brochure: https://www.marketsandmarkets.com/pdfdownloadNew.asp?id=199919959
Key Highlights the Plant Factory Market
The plant factory market is experiencing significant growth and several key highlights include:
1. Rapid Urbanization: With the global trend of urbanization, plant factories are gaining popularity as they allow for year-round cultivation in urban areas, ensuring a consistent supply of fresh produce.
2. Increased Crop Yield: Plant factories are capable of producing higher crop yields compared to traditional farming methods due to their ability to fine-tune environmental factors for plant growth.
3. Reduced Resource Consumption: These facilities are more resource-efficient, using less water and land, and minimizing pesticide use. This aligns with sustainable agriculture and environmental conservation goals.
4. Crop Diversification: Plant factories can cultivate a wide range of crops, from leafy greens to herbs and even certain fruits, allowing for diverse product offerings.
5. Technology Advancements: Ongoing technological innovations in automation, data analytics, and artificial intelligence are further optimizing plant factory operations.
Make an Inquiry: https://www.marketsandmarkets.com/Enquiry_Before_BuyingNew.asp?id=199919959
Plant Factory Market Growth Drivers:
The growth of the plant factory market is driven by several key factors, including:
1. Urbanization and Limited Arable Land: As urban areas continue to expand, there is a growing need to produce food closer to consumers. Plant factories, which can be set up in urban locations, allow for efficient cultivation in limited space, addressing the challenges of land scarcity.
2. Reduced Water Usage: Water scarcity is a significant concern globally. Plant factories employ advanced hydroponic and aeroponic systems that are highly efficient in water usage, reducing the overall demand for this precious resource.
3. Pesticide-Free and Non-GMO Products: Consumers are increasingly conscious of the quality of their food. Plant factories can ensure pesticide-free and non-genetically modified (non-GMO) produce, meeting the demand for healthier, safer food options.
4. Customized Crop Varieties: Plant factories allow for precise control of environmental conditions, including light, temperature, and humidity. This level of control enables the cultivation of a wide variety of crops, including exotic or niche varieties that may not thrive in traditional outdoor settings.
5. Technology Advancements: Ongoing advancements in automation, artificial intelligence, and data analytics are improving the efficiency and productivity of plant factories. This makes them more financially viable and sustainable, further driving market growth.
Request Sample Pages: https://www.marketsandmarkets.com/requestsampleNew.asp?id=199919959
Top Key Players:
1. AeroFarms (US)
2. Gotham Greens (US)
3. BOWERY FARMING INC. (US)
4. Plenty Unlimited Inc. (US)
5. MIRAI (Japan)
6. Agricool (France)
7. AppHarvest (US)
8. CropOne (UAE)
9. BrightFarms (US)
Europe is expected to account for the largest market share in 2023.
The plant factory market industry has been studied in North America, Europe, Asia Pacific, South America and Rest of the World. The growth of the plant factory market in Europe is driven by a combination of factors, including increased demand for locally grown produce, government support and funding, technological advancements, environmental concerns, and growing consumer interest in sustainable and locally grown produce. Many European countries have implemented policies and initiatives that encourage the adoption of sustainable agricultural practices, including plant factories. For example, the European Union's Horizon 2020 program has allocated significant funding for research and innovation in sustainable agriculture, including plant factory technology. Additionally, some countries offer tax incentives and other benefits to growers who adopt these practices.
Get 10% Free Customization on this Report: https://www.marketsandmarkets.com/requestCustomizationNew.asp?id=199919959
About MarketsandMarkets™
MarketsandMarketsTM has been recognized as one of America's best management consulting firms by Forbes, as per their recent report.
MarketsandMarkets™ is a blue ocean alternative in growth consulting and program management, leveraging a man-machine offering to drive supernormal growth for progressive organizations in the B2B space. We have the widest lens on emerging technologies, making us proficient in co-creating supernormal growth for clients.
Earlier this year, we made a formal transformation into one of America's best management consulting firms as per a survey conducted by Forbes.
The B2B economy is witnessing the emergence of $25 trillion of new revenue streams that are substituting existing revenue streams in this decade alone. We work with clients on growth programs, helping them monetize this $25 trillion opportunity through our service lines – TAM Expansion, Go-to-Market (GTM) Strategy to Execution, Market Share Gain, Account Enablement, and Thought Leadership Marketing.
Built on the 'GIVE Growth' principle, we work with several Forbes Global 2000 B2B companies – helping them stay relevant in a disruptive ecosystem. Our insights and strategies are molded by our industry experts, cutting-edge AI-powered Market Intelligence Cloud, and years of research. The KnowledgeStore™ (our Market Intelligence Cloud) integrates our research, facilitates an analysis of interconnections through a set of applications, helping clients look at the entire ecosystem and understand the revenue shifts happening in their industry.
Media Contact
Company Name: MarketsandMarkets™ Research Private Ltd.
Contact Person: Mr. Aashish Mehra
Email: Send Email
Phone: 18886006441
Address:630 Dundee Road Suite 430
City: Northbrook
State: IL 60062
Country: United States
Website: https://www.marketsandmarkets.com/Market-Reports/plant-factory-market-199919959.html