2023 Premier's NSW Export Award Winners Unveiled: Homart Excels in E-Commerce Category
It was a tremendous honor for the Homart Group to receive the 2023 Premier's NSW Export Award, recognizing its outstanding performance in the e-commerce category on Monday, October 23rd.
The esteemed Premier's NSW Export Awards program commemorates the success of NSW exporters, highlighting their global achievements. Co-hosted by the NSW Government and the esteemed Export Council of Australia, this program celebrates businesses that drive economic growth and enhance the state's international trade reputation.
Established in 1992, Homart has firmly established itself as a leading manufacturer of wellness and beauty products in Australia. The Homart portfolio includes 10 brands across wellness, mum & baby, and beauty categories, such as Spring Leaf, PETMIMA, Cheri, AUTILI, and more. These products are distributed in over 60 countries worldwide.
Over the past few years, Homart has tackled global economic challenges head-on by implementing a new E-Commerce-centric strategy. This resulted in the launch of over 30 flagship online stores on major platforms worldwide, including Alibaba, JD.com, VIP.com, Douyin, and Kuaishou in China, Lazada and Shopee in Southeast Asia, and Amazon and Shopify in Australia.
This marks the fourth consecutive year that Homart has received such a prestigious accolade. We extend our gratitude to the Export Council of Australia and the NSW state government for this recognition, and offer our congratulations to all the winners in their respective categories.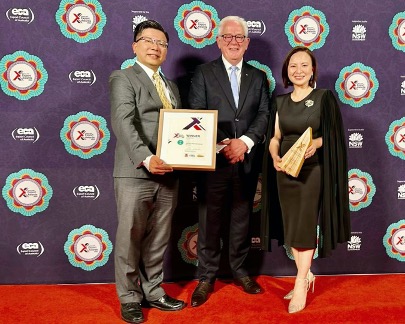 Homart Won The Premier's NSW Export Awards – Ecommerce, Homart CEO Lynn Yeh & MD Jeffrey Yeh photoed with The Hon Andrew Robb, the former minister for trade and investment.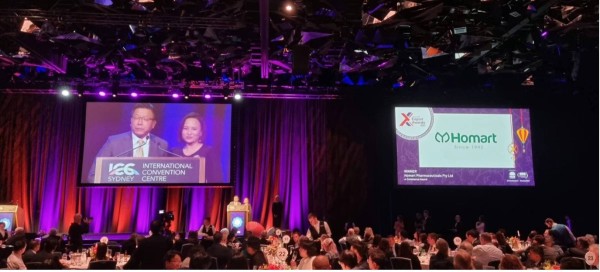 Live shot of Homart receiving 'The Premier's NSW Export Awards – E-commerce'
Media Contact
Company Name: Homart Pharmaceuticals
Email: Send Email
Country: Australia
Website: https://www.homart.com.au/