KingKonree Continues to Lead the Way in Solid Surface and Sheet Manufacturing Industry, Affirms Commitment to Enhanced Quality and Customer Satisfaction
After 20+ years of pushing the frontiers in the solid surface industry across the globe, KingKonree remains dedicated to
For the past two decades, KingKonree has been at the forefront of the solid surface industry, consistently pushing the boundaries of quality and craftsmanship. Specializing in solid surface bathtubs, basins, countertops, and sheets, KingKonree offers a comprehensive range of products that cater to a wide spectrum of needs and preferences.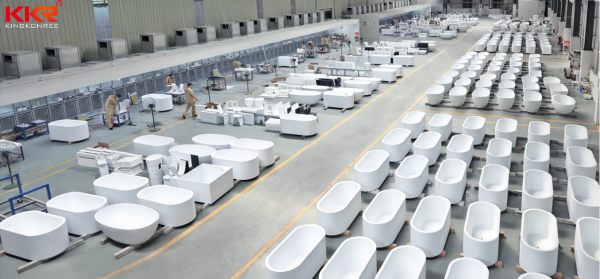 A key distinguishing factor for KingKonree is its unwavering commitment to customer satisfaction. With an impressive track record of shipping over 1200 containers annually to 126 countries worldwide, the company ensures a global reach and accessibility to its diverse range of solid surface products. From bathtubs to basins, countertops to sheets, KingKonree covers every product type under the solid surface product categories.
To provide superior support to its customers, KingKonree places significant emphasis on product quality and service upgrades. The company continuously invests in research and development, employing cutting-edge technologies and manufacturing processes to deliver products that are non-porous, durable, and cost-effective. This dedication to excellence has earned KingKonree the trust and recognition of esteemed clients, including Marriott and Mandarin Oriental Hotel Group, who have chosen KingKonree as their preferred supplier since 2008.
Over the years, KingKonree has completed over 2000 projects for more than 800 satisfied customers. With a diverse portfolio of projects across various industries, KingKonree's solid surface products have consistently met and exceeded the expectations of their clients, leaving a lasting impression of quality and sophistication.
KingKonree remains committed to driving innovation, maintaining exceptional product quality, and delivering outstanding customer service. With a focus on pushing the frontiers of quality in the solid surface industry, KingKonree is poised to continue its upward trajectory, setting new benchmarks and raising the bar for excellence.
To learn more about KingKonree's services and how they can help businesses of all sizes, please visit https://www.kingkonree.com/
About KingKonree
Kingkonree operates as a general manufacturer based in China, holding the position of one of the world's leading companies specializing in solid surface/stone resin baths and kitchen products. Upon visiting the KKR® website, individuals will be immediately captivated by the popular designs dominating the market.
The company's range of innovative and superior products caters exclusively to destinations that adhere to stringent quality standards. These offerings boast a sleek appearance, exceptional tactile qualities, remarkable cost-performance ratios, resistance to dirt, exceptional purity, absence of radiation, freedom from cracks, and resistance to rapid yellowing. Kingkonree's extensive product line includes solid surface bathtubs, washbasins, sinks, custom-designed vanity tops, shower trays, shelves, mirrors, and bath stools.
KingKonree is committed to tirelessly satisfying the needs of customers, contractors, designers, and architects, ensuring an unparalleled experience. Moreover, comprehensive installation instructions are readily accessible.
For more information, log on to https://www.kingkonree.com/about-us or watch videos on the company's YouTube channel. Connect on social media via Facebook, Instagram, Twitter, LinkedIn, and Pinterest.
Media Contact
Company Name: KingKonree International China Surface Industrial Co., Ltd.
Email: Send Email
Phone: +86 (0)755-82875700
Country: China
Website: https://www.kingkonree.com/