New Western Comedy 'The Wilde Girls' Director Says Filming a Movie In the Actual Wilderness is Super Hard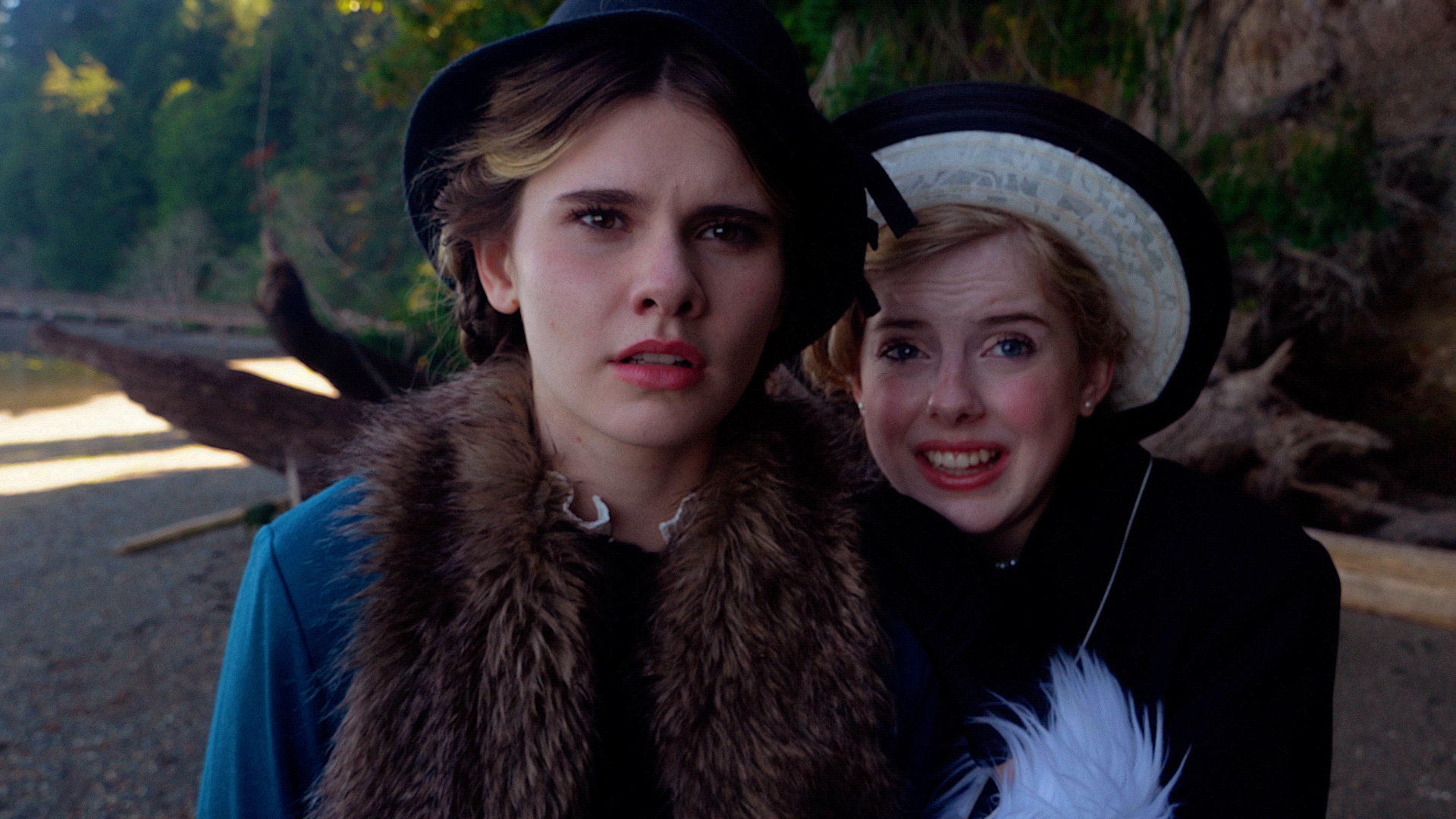 Lydia Pearl Pentz and Cali Scolari as lost heiresses Tinsley and Mattie Wilde who (above) confront a rabid wolf in Timothy Hines' new Western comedy "The Wilde Girls". The film set in 1932 during the heart of the great depression, humorously confronts the nature of privileged and humanity.
Timothy Hines' upcoming Western comedy "The Wilde Girls" starring Lydia Pearl Pentz, Cali Scolari and Teddy Smith, was filmed among deer, coyotes, snakes and ground hornets in the Pacific Northwest. The period comedy about the world's two richest heiresses lost in the Wilderness with no survival skills during the Great Depression is in post-production with some additional scenes to be filmed after the SAG-AFTRA strike ends.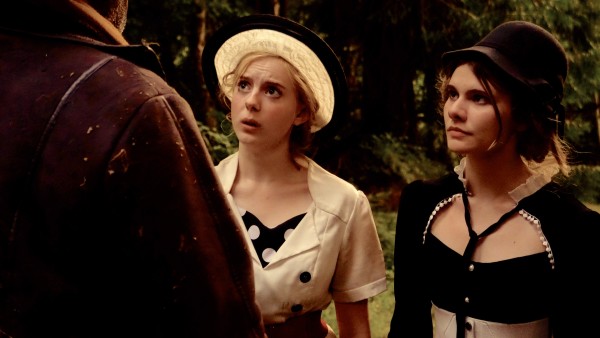 Photo: The Wilde Girls. Courtesy Pendragon Pictures.
Director Timothy Hines takes time off from editing his new comedy The Wilde Girls to talk about the challenges of shooting the unique western comedy about the world's richest girls being lost in the wilderness with no resources and no survival skills. The production has a few pick-up scenes that will be filmed after the SAG-AFTRA strike ends.
"After decades of movie making there is one thing I learned on this film that I never had before — if you are going to do a story about rich girls lost in the wilderness, don't actually film it in the bleeding actual wilderness," explains Timothy Hines, "Admittedly, shooting the picture where deer walked up to us and coyotes constantly loomed near us, brought a sense of realism to the story that we never could have gotten shooting it around Los Angeles. There were so many unexpected challenges I can't even name. One of my leads, Cali Scolari learned that she was allergic to the horse pill-sized mosquitoes that plagued us throughout the filming. Especially at dusk. We had to go to monumental efforts to shield Cali from the bites which caused her skin to immediately swell and spread poison. And it being a particularly dry season, there was an explosion of ground hornets. The girls were pretty casual about bees constantly dive bombing us. That is until, one day, to get a particular shot, I squatted down, unbeknownst to me, in a hornet's nest and they were not happy. I was stung a couple of dozen times in the space of about thirty seconds. I think I yelled every swear word I had ever learned during that bee attack. And they chased me for two dozen yards as I tried to run away."
Above: Susan Goforth and Heidi Kravitz are Beatrice and Florence Wilde, the evil aunts that trick the young heiresses out of their wealth and send them to the wilderness to meet their fate.
Timothy Hines' epic comedy, produced by actress songwriter Susan Goforth, stars Lydia Pearl Pentz and Cali Scolari as two heiress sisters who's fortune is stolen from them by comically conniving aunts, (Susan Goforth and Heidi Kravitz), when they are banished to the wilderness of pre-electrified Washington State. The shock is extreme for them, as they are clueless socialites who are used to their every need and whim being met by others, when they discover the true nature of their primitive reality. Their troubles are heavily compounded when they are met by Mr. Button (Matt Silver), a man sent to 'take them to their new home', but in reality he is a hitman sent to assure they will never return to High Society.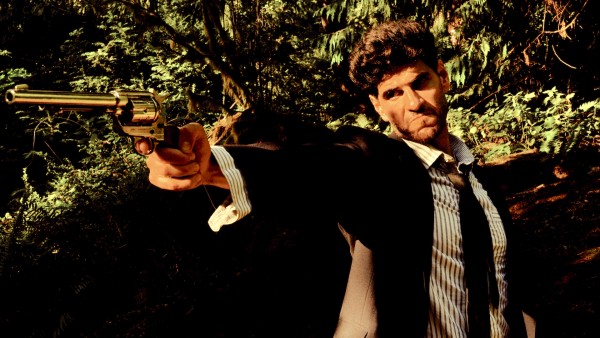 Above: Matt Silver is Mr. Button, the button, sent to exterminate the inconvenient heiresses in the dark woods of the Pacific Northwest.
Through the girls' absolute ineptitude they accidentally run Mr. Button over with his own Model-T car, then they find themselves facing the reality of survival in an untamed, desolate wilderness. They battle all nature of challenges including a bear attack, and have no chance to survive except when they meet up with a reclusive mountain man, (Teddy Smith), who wants nothing to do with them and would rather leave them for dead. On meeting Smith's character Silas Colter, they accidentally blow up his prized truck which does not put them on the right footing.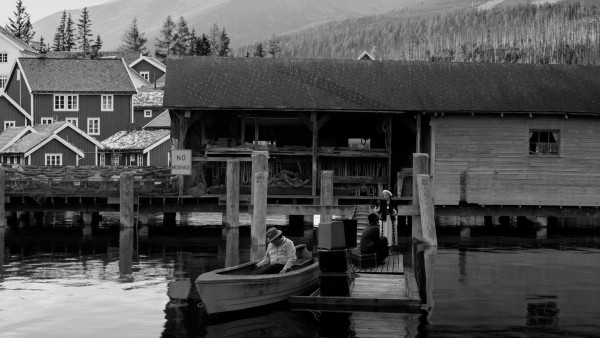 Above: Tinsley and Mattie Wilde, (Lydia Pearl Pentz and Cali Scolari) to embark on the fateful journey to the wilderness. Below: Hitman, Mr. Button, (Matt Silver) escorts the Wilde heiresses Tinsley and Mattie Wilde to their planned doom.
Reflecting on the unique production, Hines continues, "Another time, we were filming not far from a remote beach and the marina host nearby warned us the tide comes in and you will get trapped if you are not careful. We had tidal charts that showed high tide wasn't for several hours so we dismissed her warnings. An hour into shooting, she dispatched an assistant to warn us again and, once again, we brushed the warning off. Well, what we learned is the charts are meaningless as I am now chagrined to admit, we learned the hard way that TIDES DON'T COME IN EVENLY. It depends largely on the slope and curves of the particular beach. And yes, we found ourselves trapped by the ocean, having to pack equipment out above our heads, racing in water like one of those dreams when you try to run but can only run in slow motion. I drowned my cell phone trying to help us clear out before our equipment and props floated away, mirroring a scene in the script where the rich girls lose their valuables in trunks to the tide."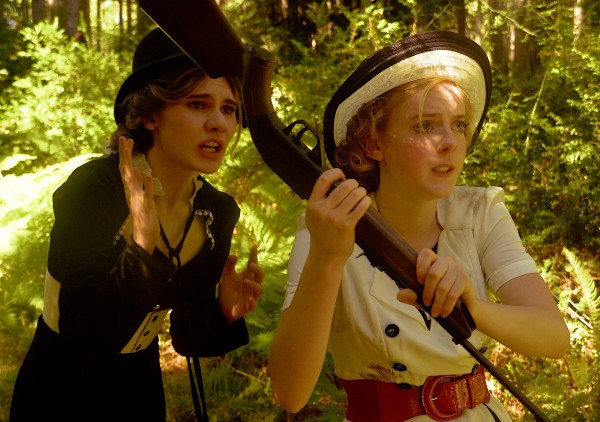 Photo: The Wilde Girls. Courtesy Pendragon Pictures.
The movie, written and being helmed by Timothy Hines, is his latest outing after the strong success of his comedy, Tomorrow's Today, with Kelly Le Brock and Rocky alum, the late Burt Young in his last role. The film was produced by Dominick Martini with Susan Goforth. Previously Hines adapted and directed Nellie Bly's true life book, 10 Days in a Madhouse starring Christopher Lambert with a cameo by Kelly Le Brock.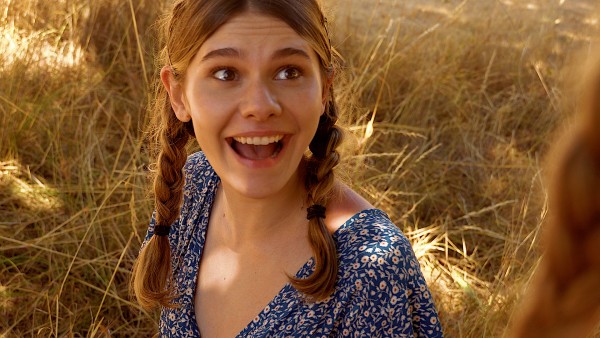 Above: Cali Scolari is Mattie Wilde, elite heiress forced to adapt to the wilderness.
"Though Cali Scolari was a city girl and though had hiked, had never ventured out into the wilderness like this," says Hines with a grin, "her co-star Lydia Pearl Pentz, in real life, is a hiker and one could almost say a mountain girl. The two actresses bonded like I've never seen on set and they clung together as if they were sisters, giving Cali the compass of knowing what was safe and what to avoid when it came to wilderness survival. Cali's weakness was spiders. She did not like the big ugly wood spiders that, yes, are dangerous, but it didn't stop her from tumbling down wild hillsides when needed or climbing up a tree or crouching in the underbrush for a particular shot. And in spite of Lydia's bravery there was one time I asked Lydia to climb up on a five-foot tall stump of a fallen evergreen tree and she said, 'Ah. No. It is covered in recluse spider webs.' I looked and she was right. I immediately changed the shot."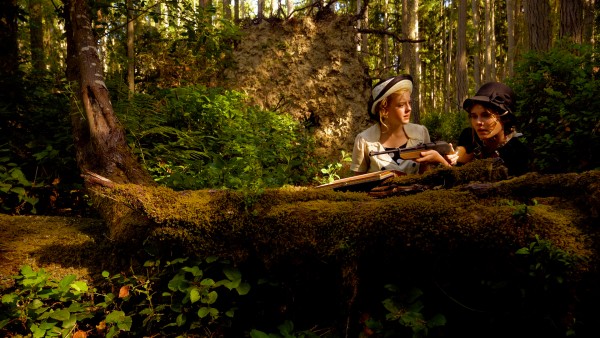 Above: Lydia Peal Pentz and Cali Scolari star as Tinsley and Mattie Wilde. Courtesty Pendragon Pictures.
Cali Scolari is a New York City native who grew up in a family of actors, notably her father Peter Scolari, (Bosom Buddies co-starring with Tom Hanks, The Newhart Show, Girls), who died of cancer in 2021, and her mother Cathy Trien, stage and screen actress, (Murphy Brown, Gossip Girl, Gotham, Honey I Shrunk the Kids: TV Show), who also died in 2021.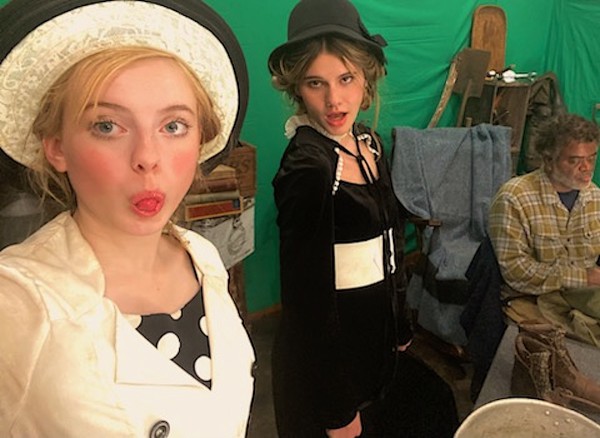 Above: L to R – Lydia Pearl Pentz, Cali Scolari and Teddy Smith clowning behind the scenes on The Wilde Girls shoot.

Above: The Wilde Girls pits the worlds two most entitled heiresses, Tinsley and Mattie Wilde (Lydia Pearl Pentz and Cali Scolari) against the raw elements of the deep forest during the Great Depression.
Ms. Scolari found her own personal love for acting very early in life. She attended the Professional Performing Arts School in NYC for Middle school and High school, and went on to graduate from the Stella Adler Professional Conservatory in 2021. Since then she has done numerous short films and student films, and now she is starring as Mattie Wilde in the comedy feature film The Wilde Girls from director Timothy Hines and producer Susan Goforth. She bounces back and forth from NYC and LA, while mainly based in NYC.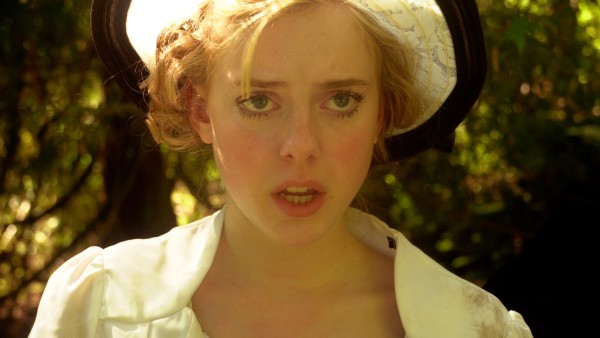 Above: Selfish, entitled heiress Tinsley Wilde (Lydia Pearl Pentz) is forced to confront her privilege in The Wilde Girls.
Lydia Pearl Pentz plays Scolari's sister, Tinsley Wilde, who is perhaps the most entitled, self absorbed girl on Earth in 1932. Ms. Pentz was chosen through a star search out of 3,000s actresses to take the leading role. Her previous film is a gripping thriller about sex trafficking, Trapped.
Producer Susan Goforth (Tomorrow's Today, 10 Days in a Madhouse, War of the Worlds the True Story) says, "placing Cali Scolari's Mattie Wilde next to Lydia Pearl Pentz's Tinsley Wilde created the right kind of chemistry that great comedy duos have had all through movie history. They are lightning in a bottle."
Above: Mountain Man Silas Colter (Teddy Smith) teaches heiresses Tinsley and Mattie Wilde (Lydia Pearl Pentz and Cali Scolari) to hunt for survival.
"I'm not complaining," insists Hines, "It quite literally was the best movie I ever shot and I can't wait to bring it to the world. I have directed thousands of actors and I've never seen such screen chemistry as Lydia and Cali had on this film. And I think our production, in many ways mirroring the girls wilderness journey brought an underlying truth to the film. Yes challenging, but it deepened our focus. We had an atypical heatwave where the majority of shooting was in temperatures above 100 degrees. Lydia had it easiest in a silk dress but Cali was in black velvet and the worst was that Teddy Smith had layers of cowboy garb, heavy wool and longjohns with a thick cowboy scarf, cowboy hat and heavy boots. He held up well under circumstances but, everybody looked like they were about to die at some point or another.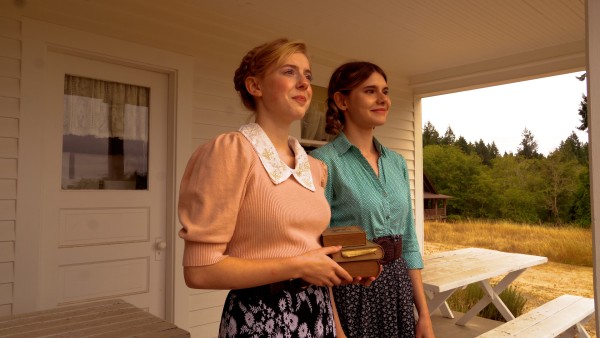 Above: Lydia Pearl Pentz and Cali Scolari as Tinsley and Mattie Wilde, the central characters in The Wilde Girls, a comedy of survival and redemption set in the Great Depression in 1932.
"One day, there was a scene where Teddy had to run to save the girls from a bear. The distance was about a half of a football field. He was in full gear, running with a prop hunting knife. On top of this, the location had dangerous sink holes that could swallow someone up in the tall grass. We joked a little too much about him disappearing and us just finding his hat in a tidal hole. Well, he ran and ran and ran for take after take for this angle and that. And at the end he had one last particularly long run which he pulled off at the top of his stride. The tidal flat field spilled out onto an actual country road where we cut. At the end of the shot Teddy was so tired he just laid down in the road where he stopped. I called to him, "Teddy, you can't rest there. A car may come along." He was breathing so heavy he just said, "I'm staying here for now. Tell me if a car is coming." I kept watch while he regained his strength. It was surreal."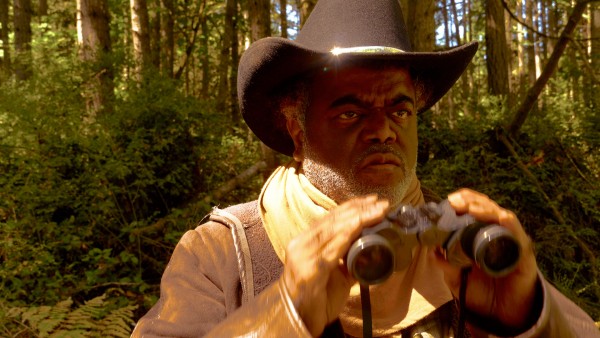 Above: Teddy Smith is the misanthropic mountain man, Silas Colter, who has to make a choice to help the spoiled and entitled heiresses lost in the forest or let them perish.
"Teddy Smith had a, (not unjustified), serious fear of snakes. He repeatedly told me he profoundly hoped not to come across a snake. I assured him the likelihood of him even seeing a snake was remote. Of course, of all cast and crew it was Teddy who, while crossing over some logs, stepped on a three and a half foot snake. It was a beautiful blue with poker card style diamonds on its back. Though it slithered away quickly, Teddy was not at all pleased. I never heard him yell like that! We all have something that gives us the willies and for Teddy it's snakes. We all looked up what we saw on the internet and it turned out the snake was harmless and from its size and variety, about 10 years plus old. All in all, as I've said, this is the best movie I have ever directed. I am confident audiences will agree when they see what the cast and story brings for entertainment.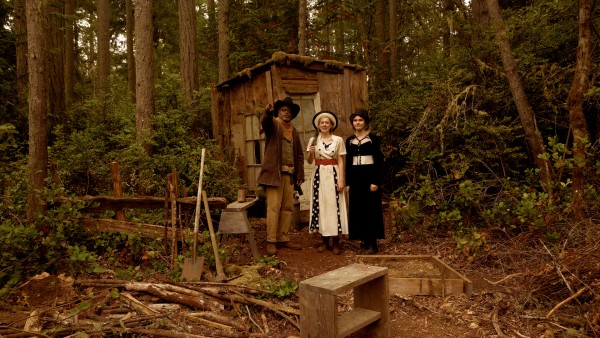 Above: Reclusive mountain man Silas Colter (Teddy Smith) shows the Wilde Girls (Lydia Pearl Pentz and Cali Scolari) their new house in the forest.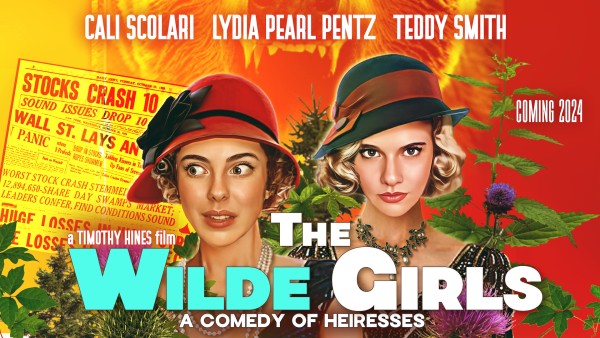 Above: The Wilde Girls is planned for a Summer 2024 theatrical release.
Media Contact
Company Name: Pendragon Pictures
Contact Person: Susan Goforth
Email: Send Email
Phone: +1 310-480-0837
City: Los Angeles
State: CA
Country: United States
Website: www.pendragonpictures.com