Main structure of port eco hopper and Advantages for GBM Eco-hopper
This GBM ecological hopper/dust-proof hopper/port hopper/ mobile tire hopper/eco hopper is mainly used for the unloading and loading of bulk cargoes. If your port pursues 95% dust removal effect,then the filter bagtype hopper will be your best choice.A bag filter is a dry dust filter. It is suitable for capturing fine, dry, nonfibrous dust. The filter bag is made of woven filter cloth or non-woven felt, and the dust-containing gas is filtered by the filtering effect of the fiber fabric. The action settles down and falls into the ash hopper. When the gas containing finer dust passes through the filter material, the dust is blocked and the gas is purified.
1. Eco hoppers is eco-friendly solution for unloading dust cargo.The dust removal efficiency is high, generally above 99%, and the dust concentration in the outlet gas of the dust collector is within tens of mg/m3, which has a high classification efficiency for fine dust with sub-micron particle size.
2. Multiple discharge options: to conveyor, to one truck, to two truck,via telescopic chute, through ancillary Material Feeder.
3. Multiple travel options: rail, static or pneumatic tyre mounted and powered and towable travel
4. The port hoppers working efficiency could custom by your need and reach 5000T/H.
Main structure of port eco hopper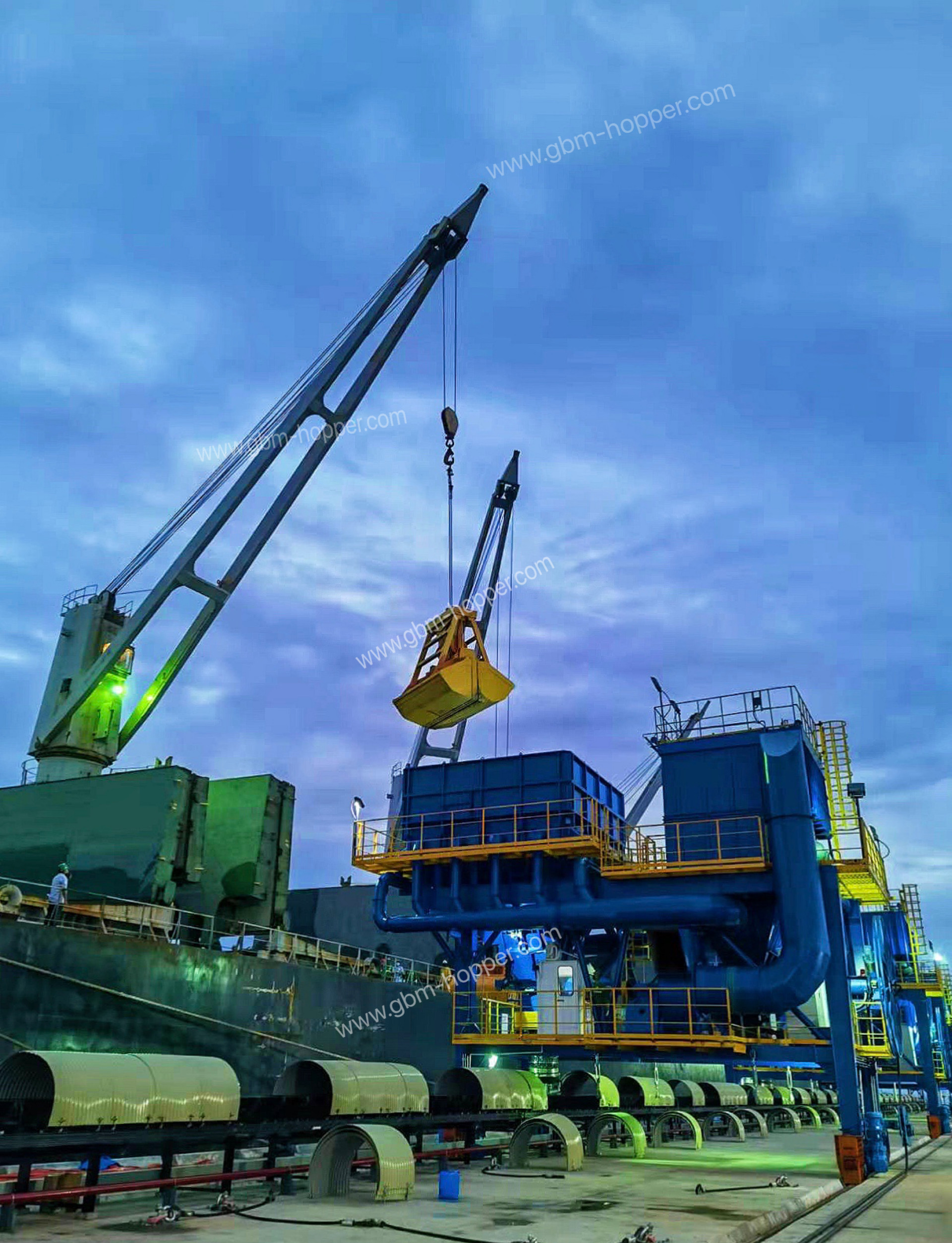 1. The port eco hopper is composed of a grid plate, a palatal opening and closing door, a gantry structure, a mobile wheel group, bag filter collector and a water pipe spray system, a ladder platform, an electrical control system and a remote control system.
2. The eco-hopper meets the requirements of loading and unloading operations for continuous production of three shifts a day at the port.
3. The eco-hopper has sufficient strength and rigidity, the effective volume of the funnel is about 20-50-100 cubic meters, and the size of the opening above the eco hopper is designed according to the capacity of the grab bucket.
4. There is a grid plate and a vibrator at the entrance of the eco hopper to prevent large pieces of material from entering the hopper and causing material blockage.
5. Remote control in the operating room, the operating range of the wireless remote control is 250m.
article source: https://www.gbm-hopper.com/telescopic-cranes-product/
Media Contact
Company Name: SHANGHAI GUANBO MACHINERY EQUIPMENT CO.,LTD
Email: Send Email
Phone: (+86) 21 5088 0140 / 5088 0137
Address:3736-5 Hunan Road, Pudong
City: Shanghai
Country: China
Website: https://www.gbm-hopper.com/