Author's Tranquility Press Presents: "Making Shifts In Waves Of Change: A Coach Approach To Soulful-Leadership" by Edward Hammett and James R Pierce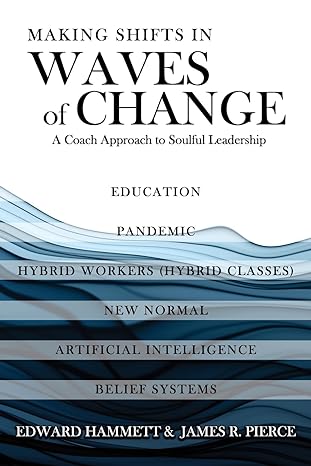 Revolutionary Transformation Unveiled: A Coach Approach to Igniting Change
Author's Tranquility Press is excited to introduce a groundbreaking guide that unlocks the secret to revolutionary transformation. "Making Shifts In Waves Of Change" by the visionary authors Edward Hammett and James R Pierce is now available on Amazon.
In a world marked by constant change and transition, Hammett and Pierce offer a beacon of hope and a toolkit for individuals and leaders alike. Their revolutionary approach to transformation is rooted in the power of coaching, guiding readers through the intricate dance of change and transition.
Revolutionary Transformation = Change + Transition:
Change is inevitable, but transformation is a choice. "Making Shifts In Waves Of Change" is your guide to making that choice. Hammett and Pierce provide readers with a treasure trove of questions, insights, models, and acrostics designed to introduce change and shepherd the transition process. This transformative journey explores the dual dimensions of leading from both the 'heart' and 'head,' creating a space where others can be invited into a change that not only alters the course but also profoundly transforms.
With profound wisdom, the authors delve into the benefits and challenges of soulful leadership, where the heart and head converge to ignite change. They reveal the art of guiding individuals and organizations through the waves of change, creating a ripple effect of revolutionary transformation.
"Making Shifts In Waves Of Change" is not just a book; it's a catalyst for change agents, leaders, and anyone seeking to unlock the untapped potential of transformation. Whether you're navigating personal growth or guiding your team through a transformative journey, this book provides the essential tools and insights to make every shift meaningful.
Discover the power of the coach approach to soulful leadership with "Making Shifts In Waves Of Change" by Edward Hammett and James R Pierce, available now on Amazon. Revolutionize your understanding of change and transition, and unleash the extraordinary potential within yourself and your organization.
About the Authors:
Edward Hammett and James R Pierce are visionary leaders with a passion for empowering individuals and organizations to achieve revolutionary transformation. Their combined expertise in coaching and soulful leadership has created a blueprint for change that transcends the ordinary and ushers in the extraordinary.
About Author's Tranquility Press
Author's Tranquility Press is a top publicity agency known for delivering innovative solutions designed to help writers across genres to reach a wider audience. The company combines the use of the latest technologies and the expertise and diverse experience of the team to provide quality, relatable content to as many people as possible, irrespective of their location across the globe.
Media Contact
Company Name: Author's Tranquility Press
Contact Person: Patricia Adams, Marketing Supervisor
Email: Send Email
Phone: 8664118655
Address:3800 CAMP CREEK PKWY SW BLDG
City: Atlanta
State: GA
Country: United States
Website: www.authorstranquilitypress.com/