ProServeIT Is Thrilled to Announce the Launch of "AI Solutions: Microsoft Copilots" Webinar Series for Business Optimization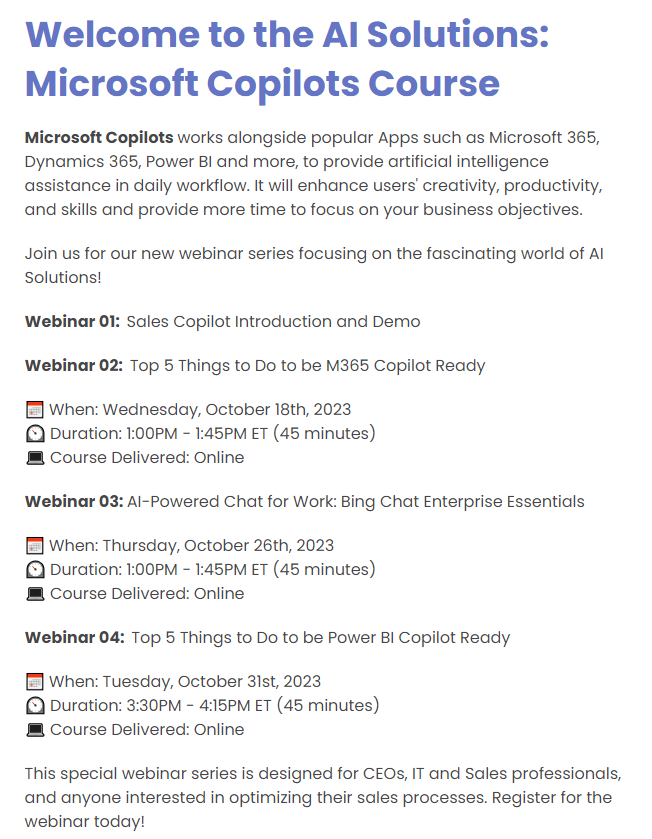 The "AI Solutions: Microsoft Copilots" webinar series is a unique opportunity for CEOs, executives, IT professionals, sales experts, and anyone looking to optimize their business processes
ProserveIT Corporation, a leading technology solutions provider, is excited to announce its upcoming webinar series, "AI Solutions: Microsoft Copilots," which is set to revolutionize the way businesses operate in the digital age. Microsoft Copilots are integrated with popular applications such as Microsoft 365, Bing Search, Dynamics 365, Power BI, and more, providing artificial intelligence assistance to enhance creativity, productivity, and skill sets while allowing businesses to focus on their core objectives.
Embracing the World of AI Solutions
The "AI Solutions: Microsoft Copilots" webinar series is a unique opportunity for CEOs, executives, IT professionals, sales experts, and anyone looking to optimize their business processes. Discover ways to empower your team with the latest AI features and experiences that are transforming the way people chat, search, work, and live. With tools that are activated with natural language, it's now easier than ever to unlock the benefits of generative AI, giving employees better answers, greater efficiency, and new ways to be creative.
The series begins with Webinar 01, "Sales Copilot Introduction and Demo," introducing participants to the powerful world of Microsoft Sales Copilot, designed to empower sales teams with the tools they need to excel in today's competitive landscape. Webinar 02, "Top 5 Things to Do to be M365 Copilot Ready," Webinar 03, "AI-Powered Chat for Secure Work: Bing Chat Enterprise, and Webinar 04 "Top 5 Things to Do to be Power BI Copilot Ready," provide participants with practical insights to harness the capabilities of these AI solutions effectively.
Meet the Instructors
The webinars will be conducted by a team of experts, including Joy Fajardo, Brand Experience Manager at ProServeIT; Corey Reyneker, VP Alliances at ProServeIT; Ben Murney, Manager of Modern Work – Modern Workplace Practice; Katherine Quon, Marketing Assistant, and Scott Sugar, Practice Lead, Data & Analytics at ProServeIT. Each instructor brings a wealth of experience and expertise to help participants unlock the potential of Copilot and AI solutions in their businesses.
Mark Your Calendar
The "AI Solutions: Microsoft Copilots" webinar series begins on Wednesday, October 18th, 2023, with Webinars 01 & 02 from 1:00 PM to 1:45 PM ET, and continues on Thursday, October 26, from 1:00 PM to 1:45 PM ET with Webinar 03, and Tuesday, October 31st, 2023, with Webinar 04 from 3:30 PM to 4:15 PM ET. All webinars will be delivered online.
Don't miss this exciting opportunity to explore how AI solutions can revolutionize your business. Register for the webinar series today to stay ahead in the age of AI and drive greater success.
For more information and to register, please visit the official registration page.
About ProServeIT Corporation
Established in 2002, ProServeIT Corporation was one of the first Microsoft Partners to spearhead the adoption of Cloud computing. As a modern IT specialist and trusted technology advisor, ProServeIT continues to help organizations in various industries unlock their digital future and turn technology into a true business enabler. ProServeIT is headquartered in Oakville, Ontario, with offices in Prince Edward Island (Canada), Illinois (United States), New Mexico (United States), Paris (France), and Ho Chi Minh City in southern Vietnam. ProServeIT is a people-first organization, and its employees aim to live out its three core values on a daily basis: People Matter. Be Like Gumby. Do It Right. Your success matters to us. Partner with ProServeIT and unlock your organization's digital future.
Media Contact
Company Name: ProServeIT
Contact Person: Caleb Harper
Email: Send Email
Country: United States
Website: https://proserveit.com/