Wonder Wall Putty Announced The Launch Of Its 1Kg And 5Kg Bag
The smaller packs will lessen the trouble of wastage and make product placement easier while ensuring cost-effectiveness.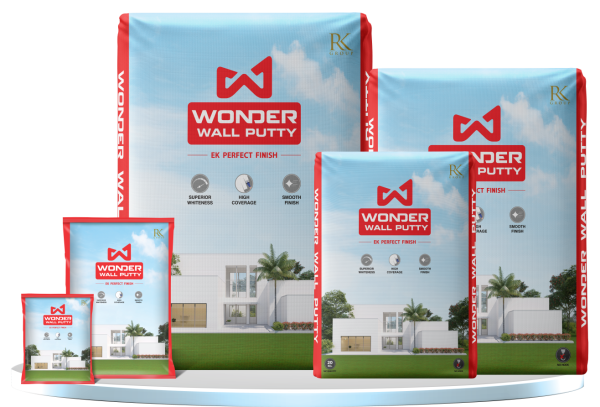 Wonder WallCare Pvt. Ltd., a distinguished subsidiary of the renowned R.K. Group, is elated to unveil its new 1kg and 5kg packaging for its flagship product, the Wonder Wall Putty.
The decision to introduce these smaller packs reflects the brand's unwavering dedication to customer convenience and efficiency. One of the standout features of these packs is their cost-effectiveness, making them accessible to a broader spectrum of budgets. Their compact design ensures they are lightweight and easy to transport. Ideal for minor repairs and touch-ups, these packs significantly minimize wastage, ensuring customers only use what they need. Additionally, retailers will appreciate the enhanced design of these packs. They are tailored to fit effortlessly into retail spaces, even when shelf space is limited. This means product placement becomes very easy, and merchants can now avoid the wastage often associated with larger bags. For minor fixations, these small bags prove to be extremely handy. In essence, Wonder WallCare's smaller packs are a testament to the brand's commitment to blending functionality with user-friendliness.
Wonder Wall Putty offers enhanced adhesiveness and durability, effectively extending the paint's life. It imparts a smooth, glossy finish to surfaces, ensuring superior whiteness that elevates the walls' aesthetics. The putty requires no curing, has a water-resistant formulation, and is ideal for both internal and external applications.
With its roots in the legacy of RK Marble, a leader in the marble industry, Wonder WallCare embodies values of quality, trust, and transparency. The product, Wonder Wall Putty, crafted from top-grade raw materials sourced from the world-class mines of Morwad, Rajasthan, and fortified with special polymers and white cement, guarantees "Ek Perfect Finish" for all walls.
Beyond legacy, the distinguishing factor for the R.K. Group and its subsidiary, Wonder WallCare Pvt.Ltd., is the enduring spirit of integrity and an unwavering commitment to quality. This commitment shines through in their state-of-the-art manufacturing facility in Morwar, Rajsamand. Built-in collaboration with industry giants FLSmidth and KHD Humboldt Wedag, the fully automated plant, boasting robotic technology, has an impressive annual production capacity of 6 lakh tons.
The company's guiding principles are clear: Their mission is to consistently deliver quality products that meet consumer expectations and foster trust. Their vision is to establish Wonder WallCare as the benchmark for quality, reliability, and finish in the wall putty industry. Their values center around a commitment to unparalleled quality, building a foundation of trust, and ensuring a transparent customer experience.
Wonder WallCare Pvt. Ltd. now offers an extended range of SKUs for the Wonder Wall Putty, which includes 40kg, 30kg, 20kg, and the newly launched 5kg & 1kg.
To learn more, visit: https://wonderwallcare.com
For any query, reach out at info@wonderwallcare.com or call +1800 31 31 31.
About Wonder WallCare Pvt. Ltd.
A cornerstone in the prestigious R.K. Group portfolio, Wonder WallCare Pvt. Ltd. has made a mark with its exceptional white-cement-based putty, The Wonder Wall Putty. Operating from a cutting-edge facility in Morwad, Rajsamand, Rajasthan, the company's ethos is deeply rooted in quality, trust, and transparency.
Media Contact
Company Name: Wonder WallCare Private Limited
Contact Person: Rahul Ramnani
Email: Send Email
Phone: 1800 31 31 31
City: Jaipur
State: Rajasthan
Country: India
Website: wonderwallcare.com