High-quality Power Supply Supports Rural Areas in Ningbo, Zhejiang to Achieve Modernization
Hengkantou Village is located in Yuyao, Zhejiang, and is building a green ecological industry system integrating agriculture, culture, and tourism.
For rural revitalization, power shall go first. The State Grid Zhejiang Yuyao Power Supply Company gives full play to the basic role of the power grid and the exemplary role of power supply enterprises, and innovatively builds the Hengkantou rural electrification demonstration zone.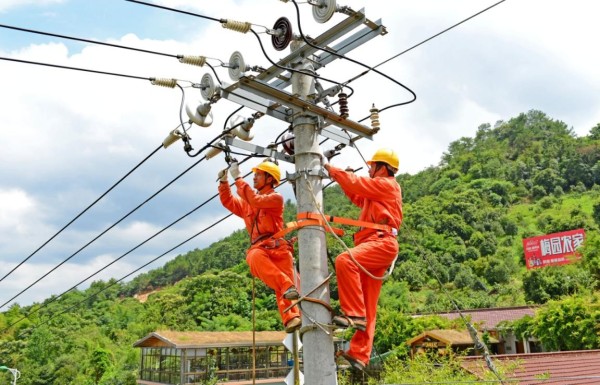 In conjunction with the construction of beautiful villages, the State Grid Zhejiang Yuyao Power Supply Company carries out transmission line relocation and renovation, promotes rural beautification and remediation, achieves further upgrading of power grids for ecologically livable villages and towns, pushes automated construction in mountainous areas, and realizes full coverage of intelligent power switches and online fault monitoring devices, so as to achieve accurate judgment and isolation of faulty areas.
The State Grid Zhejiang Yuyao Power Supply Company has put into use the first "environmentally friendly" box-type transformer in Ningbo, which is harmoniously integrated with the appearance of the village. Also, the country's first village-level 200 kilowatt copper, indium gallium selenium (CIGS) distributed photovoltaic power plant is operated, which brings more than RMB60,000 of power generation revenue to the village every year.
In the 20 years since the "Thousand Villages Demonstration, and Ten Thousand Villages Remediation" project was implemented in Zhejiang, the State Grid Zhejiang Electric Power Company has continued to increase investment in rural power grids and improve the rural electricity supply and consumption environment. At present, the reliability rate of rural power supply in Zhejiang reaches 99.9735%, far exceeding the national average. The State Grid Zhejiang Electric Power Company has also set up a "Station District Manager+Rural Electricity Safety Officer+Convenience Service Point Clerk" power supply service network in rural areas, promoted the "online State Grid" online electricity management channel, popularized joint handling of multiple business such as water, electricity, and gas, and achieved "handling electricity related business without leaving the village."
(Authors: Zhang Zifan and Sun Yujing)
Media Contact
Company Name: State Grid Zhoushan Power Supply
Contact Person: ZHANG
Email: Send Email
Phone: 0081-15267021138
State: NINGBO
Country: China
Website: http://www.zj.sgcc.com.cn