The Reluctant Healer by Andrew Himmel Offers a Vivid Evocation of the Conflict Between Reason and Spirituality
Andrew Himmel's The Reluctant Healer is a groundbreaking work of spiritual fiction about a skeptical lawyer wrestling with a crisis of faith, as he discovers his own possibly supernatural powers.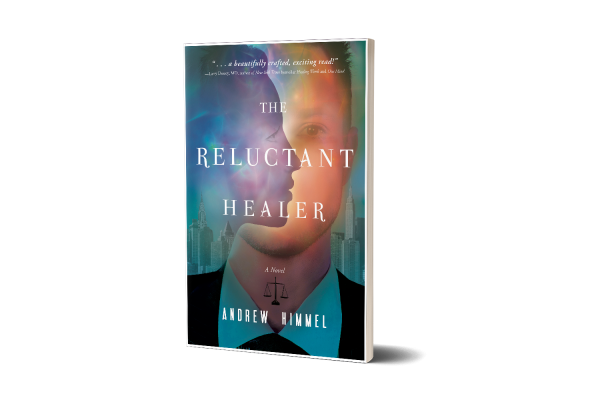 The Reluctant Healer tells the story of a young attorney who is torn between mounting evidence that he has the spiritual ability to heal others and his life-long skepticism of alternative views. Will Alexander is cautious and conventional. But when he meets Erica, a beautiful, intense energy healer, he becomes troubled, not only by her unorthodox endeavors but also by the limitations of his own existence. Amidst the turmoil, Will is startled to discover that he may possess metaphysical gifts of his own, a realization that puts his life on an unexplored path as he struggles to navigate the suddenly blurred lines of his reality.
"I started this book some years ago to explore the dynamic in my own marriage. My wife is a spiritual healer and I am a skeptical left-brain attorney. I thought, what would happen if that attorney found that he himself had healing powers, yet still retained his skepticism," says Andrew Himmel. A brilliant writer, Himmel enjoys a notable career as the founding partner of Himmel & Bernstein, LLP. Now a multi-award-winning published author, Himmel's aim with The Reluctant Healer is to portray the angst of an ordinary person confronted with extraordinary phenomena. "I wanted to explore the role of doubt and conviction as it plays out in a loving yet troubled relationship."
The book weaves together several standout features that put it in a class of its own. Himmel's crisp and engaging writing style masterfully blends a world of order with one of mystique while simultaneously exploring elements of self-doubt, romance, family, and humor. Will's character progression from skeptical attorney to reluctant healer is remarkable as it explores the lengths a rational man would go to understand himself. Himmel's focus on the surreal ties the work together in an unforgettable way that will have readers questioning the fabric of reality itself.
The Reluctant Healer has received positive reviews from some of the most well-renowned literary organizations, authors, and reviewers around the world. Kirkus Reviews writes, "Himmel's entertaining novel is on one level a fine comedy of ideological manners. The author's sharply etched characters and smart, observant prose shrewdly capture the ways people think and talk about religious and philosophical issues." In addition, Larry Dossey, MD and New York Times best-selling author of Healing Words writes, "This extraordinary book is essentially a glimpse into the future of healing, in which science and spirituality join hands…it's a beautifully crafted, exciting read!"
Flawed, funny, and agnostic, The Reluctant Healer is available for sale on Amazon. Readers looking for a highly original, deeply personal account of one man's journey from uncertainty to liberation are encouraged to purchase their copy today: https://www.amazon.com/Reluctant-Healer-Andrew-D-Himmel-ebook/dp/B07GXZ4S6L/
About the Author
Andrew Himmel has practiced law in New York City for over thirty years and is a founding partner of Himmel & Bernstein, LLP, located in the Flatiron District. The Reluctant Healer has won multiple awards and was named to Kirkus Reviews' Best Books in its debut year. To learn more, please visit: https://andrewhimmel.com
Connect with Andrew Himmel on Social Media:
https://www.facebook.com/AndrewDHimmelauthor
Media Contact
Company Name: Author News Network
Contact Person: Media Relations
Email: Send Email
Country: United States
Website: authornewsnetwork.com