Veymax Cejour Series: The Ultimate Portable Electric Skateboard Released
Experience the perfect combination of power, comfort and economy with the Veymax Cejour range of electric skateboards.
VEYMAX is dedicated to delivering the ultimate riding experience at an unbeatable value. Building on our success with affordable boards from X1 to X4, we listened to player feedback and developed our best board yet – Veymax Cejour Series!
Veymax Cejour Series, flexing with its deck
The Veymax Cejour range features a flexible composite deck made of 8 plies of Canadian maple and 1 ply of fiberglass. The deck is solid and durable with a lot of flexibility, making it an excellent sculpting deck. Like the Veymax X-series of electric skateboards, the Veymax Cejour Series will give you the best rides under $500.
The handles in the Veymax Cejour Series are built into the deck itself. This convenient and innovative design means there are no protruding parts of your deck, allowing for a smooth ride and worry-free carving. You can easily ride the board anywhere – just lift the board and go. Riders who combine public transportation and skateboarding will find the handle to be one of the most convenient features on the Veymax Cejour Series electric skateboards.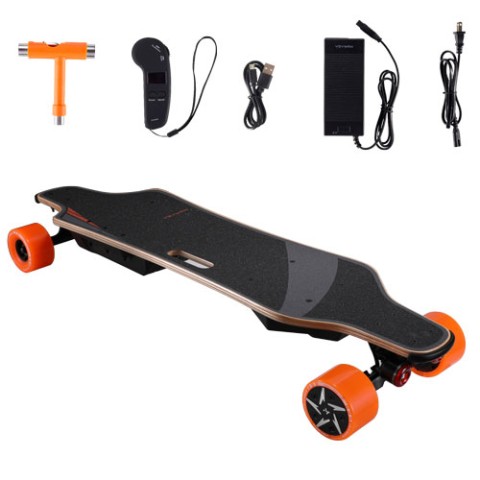 If you are looking for a portable electric skateboard as a last mile solution, or want a very light and portable electric longboard, then the Veymax Cejour Series will be the best choice for you.
Great build quality with refined riding experience
The standard version of this series Veymax Cejour is equipped with a 216Wh 12s2p 18650 battery, dual 550W hub motors and a portable designed motherboard. At under $500, the Veymax Cejour Series is the most powerful board in this price range, with a top speed of 28 mph.
In addition to extreme speed, the Veymax Cejour range offers a well-rounded riding experience. It comes with a flexible deck and reliable truck, making it suitable for both carving and high-speed cruising. Its maximum cruising range of 18 miles (28 kilometers) is also top-of-the-line in its price range.
With a top speed of 28 mph and a maximum cruising range of 18 miles, the Veymax Cejour Series lets you navigate city roads or campus commutes.
The Veymax Cejour range comes with 96mm street wheels that provide a smooth ride on all forms of road.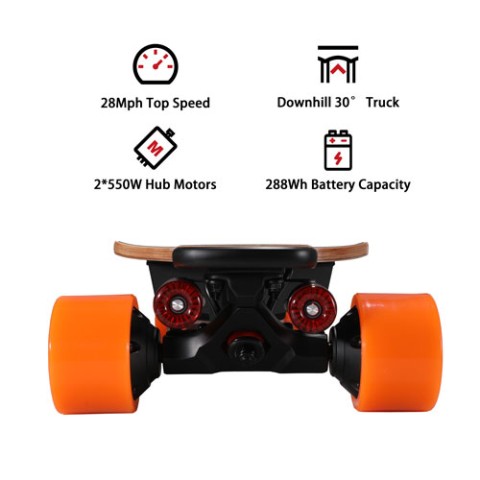 Portable esk8 at affordable price
The Veymax Cejour Series is a solid ride and some of the most exciting boards under $500.
This is the electric skateboard that has it all, whether performance, durability, comfort or user-friendliness are your consideration.
Whether you're cruising city streets, coastal roads or hilly terrain, the overall riding experience is a perfect balance of power, comfort and enjoyment.
Media Contact
Company Name: VEYMAX
Contact Person: Eileen
Email: Send Email
Phone: +1 3475932654
Country: United States
Website: https://veymax.com/