Bali Dream Workshop: A Unique Opportunity to Transforming Business and Life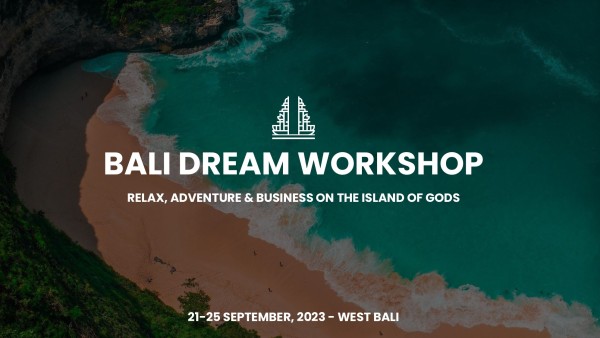 WEST BALI – September 18, 2023 – Bali, often referred to as the "Island of Gods," is about to become the backdrop for a transformational business and personal development experience like no other. The Bali Dream Workshop, taking place from September 21st to 25th, 2023, invites entrepreneurs, professionals, and anyone seeking to elevate their business and life to immerse themselves in an unforgettable tour of relaxation, adventure, and business growth.
Hosted by Roberto and Maru, seasoned Bali residents who have curated the best of the island to offer, the Bali Dream Workshop promises to be a life-changing event for attendees. This immersive experience will empower participants with the knowledge and skills they need to magnify their incomes, improve branding and marketing strategies, strategically invest in real estate, and supercharge their social media presence.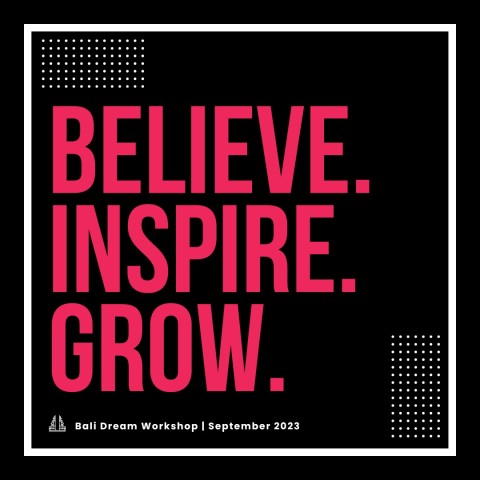 The program is intentionally structured with dynamic and interactive activities, visual boards, and powerful exercises aimed at stimulating creativity, productivity, and efficiency. Participants will learn from experts in the field, including Chris White and Lyndon Longhorne, Roberto Penades, Maru Cruz Victoria,Jancke and Amanda Williams who will share their expertise in real estate investment, social media presence, branding, marketing strategies, and resilience mindset.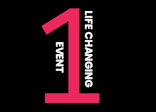 Key Features from the Bali Dream Workshop:
1. Multiply Your Capital with Real Estate Investment (Chris White and Amanda Williams): Attendees will gain insights into the world of real estate investment, including how to define clear financial goals, budget wisely, study market trends, select properties strategically, calculate returns, explore financing options, and make informed decisions to grow their wealth.
2. Branding Strategy for Business Growth (Maru Cruz): Learn to build a strong brand, understand your brand identity, create, or redesign your visual identity, and maintain brand consistency across all touchpoints. This session will empower you to elevate your business presence and drive lasting customer loyalty.
3. The Golden Wheel Method and Funnel Marketing (Roberto Penades): Unlock the secrets of winning over customers, fostering loyalty, and boosting your incomes through effective sales funnels and conversion rate optimization.
4. Elevate Your Social Media Presence (Victoria Jancke): In the digital age, an impactful social media presence is crucial. This session will cover strategic content planning, consistent branding, high-quality visual content, interactive engagement techniques and collaborations to expand your reach and influence.
5. Resilience Unleashed: Mastering Mindset for Success (Lyndon Longhorne): Discover the power of a growth mindset, learn from inspiring stories of resilience, and gain practical strategies for cultivating resilience in daily life. Embrace failure as a stepping stone to personal growth and effective leadership.
The BALI DREAM Workshop is geared towards pushing you out of your comfort zone. Participants will also engage in dynamic exercises designed to empower them to tackle branding challenges with fresh perspectives, nurture innovation, hone problem-solving skills, and ignite creativity.
Additionally, the Dream Workshop takes place in the stunning setting of Sumberkima Hill, adding a touch of natural beauty to your learning experience.
Explore the Dream Workshop and enjoy Sumberkima Hill, a picturesque hotel location. This unique workshop promises to elevate your social media presence. Take a look at our website https://creativelions.myclickfunnels.com/dreamworkshop
The BALI DREAM Workshop is not just a workshop; it's an adventure for personal and professional growth. The serene surroundings of Bali will provide the perfect backdrop for disconnecting, clearing minds, and designing winning strategies for business success.
Take leverage on the 20 available spots at a special price of U$ 5.970 and U$ 9.970 (with Helicopter Pickup at the airport).
If after attending the 3 days of The BALI DREAM Workshop, you feel that it wasn't worth it, we will give 100% of your money back, only discounting our expenses related to activities, restaurant reservations, and hotel bookings.
Don't miss this opportunity to transform your life and business. Join us in Bali from September 21st to 25th, 2023, for the Bali Dream Workshop. Let's embark on this journey together.
For more information and registration details, visit http://dreamworkshopbali.com
Media Contact
Company Name: Dream Workshop Bali
Contact Person: Chris White
Email: Send Email
Phone: +351 918 055 119
Country: Indonesia
Website: dreamworkshopbali.com