Divorce Mediation Lawyer Ryan Besinque Sheds Light on Divorce Mediation in New York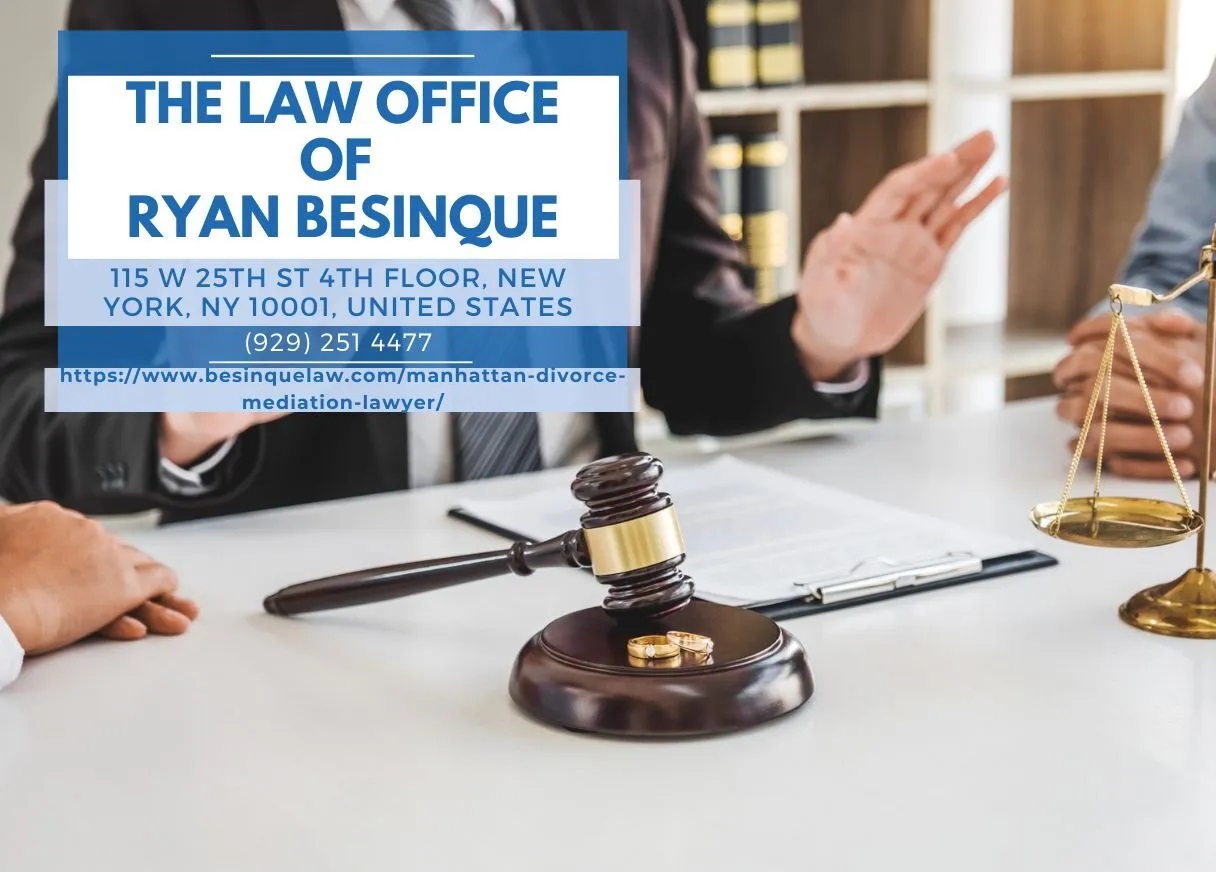 In a recent article, Manhattan-based divorce mediation lawyer Ryan Besinque, provided invaluable insights into the intricacies of divorce mediation in New York. The article offers an in-depth look at the divorce mediation process, its advantages, and the crucial role of a mediation attorney in facilitating a smoother and less adversarial divorce process.
The first few paragraphs of the article highlight the foundational principles of divorce mediation, explaining how this process serves as a confidential, voluntary, and non-adversarial approach to resolving issues arising from the end of a marriage. The article emphasizes the importance of engaging an experienced divorce mediation lawyer to guide individuals through this complex process and offer the necessary legal advice.
"Divorce mediation is a process that fosters open communication, suggests solutions, and guides parties toward agreements that are equitable and sustainable," says divorce mediation lawyer Ryan Besinque. He further explains how divorce mediation can be a more amicable alternative to traditional court litigation.
The article delves deeper into the roles and responsibilities of a divorce mediation lawyer, underscoring their duty to facilitate communication, not to take sides or pass judgment. The central objective, as Ryan Besinque points out, is to assist couples in settling their differences amicably and reaching mutually satisfying resolutions on issues such as the division of marital assets, child custody and visitation, child support, alimony, and other matters pertinent to their divorces.
The benefits of divorce mediation, as highlighted in the article, are numerous. They range from cost-effectiveness and better communication to confidentiality, control, flexibility, reduced conflict and stress, and higher satisfaction and compliance. This method often proves more efficient than traditional courtroom settings, such as family court.
Despite the many advantages of divorce mediation, Ryan Besinque acknowledges that it may not be a viable option for all couples, especially in cases involving high-conflict divorces, domestic violence, or power imbalances. In these situations, traditional court litigation may be necessary.
However, the article emphasizes the invaluable role of a divorce mediation attorney in New York, detailing how attorneys can alleviate the pressures involved in a divorce case by providing guidance, support, and a thorough understanding of New York divorce laws.
Mediators, such as Ryan Besinque, facilitate communication and negotiation, focus on the best interests of the family, help create customized solutions, assist with paperwork and legal procedures, handle financial matters and work towards preserving relationships. A well-drafted parenting plan, for instance, can help minimize future conflict resolution needs.
To fully grasp the complexity of divorce mediation and understand how it can help avoid a contentious divorce, it is essential to seek the assistance of a qualified lawyer. The Law Office of Ryan Besinque, a respected law firm known for its exceptional commitment to clients, stands ready to guide individuals through this challenging process, empowering them to secure the best possible outcome for their case.
About The Law Office of Ryan Besinque:
The Law Office of Ryan Besinque is a client-centric law firm based in Manhattan, New York. With a focus on divorce mediation, their dedicated team of accomplished attorneys works diligently to help families navigate the complexities of the New York divorce system. Their approach prioritizes open communication, thorough case evaluation, and the exploration of alternatives to divorce litigation, offering a more amicable pathway to divorce. Their unwavering commitment to client satisfaction is evident in their personalized approach, ensuring each client receives the guidance and support they need throughout their divorce process.
Embeds:
Youtube Video: https://www.youtube.com/watch?v=sGdEvUIH88A
GMB: https://www.google.com/maps?cid=3422990479581259264
Email and website
Email: ryan@besinquelaw.com
Website: https://www.besinquelaw.com/
Media Contact
Company Name: The Law Office of Ryan Besinque
Contact Person: Ryan Besinque
Email: Send Email
Phone: (929) 251-4477
Address:115 W 25th St 4th floor, New York, NY 10001
City: New York
State: New York
Country: United States
Website: https://www.besinquelaw.com/