Tezos' exclusive naming service Tezos Domains announces launch on TrustSwap
With over 150,000 domains already registered, Tezos Domains announced the launch of its $TED token towards the goal of decentralised governance.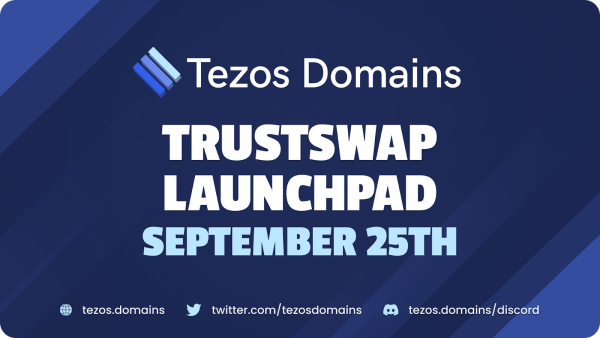 The Tezos Foundation backed naming service has already been live for the last 2 years and is one of the most successful Dapps on Tezos, with integrations such as Plenty DEX, Kukai Wallet, Temple Wallet, Mailchain, Ledger and TzKT. Anyone can design a distinctive domain name with Tezos Domains and establish ownership on the Tezos Blockchain. These domains can be used to post verifiable contact information, link a web3 wallet address to a website, share an avatar, and more.
Tezos Domains let you utilise a human-readable Tezos Domain Name rather than confusing public key addresses in wallets and decentralised applications (dApps) throughout the Tezos ecosystem. Compatible platforms display these domain names in place of Tezos addresses. The InterPlanetary File System (IPFS), among other decentralised content storage platforms, allows users to publish websites utilising Tezos Domains.
The public sale of the $TED token will be live on 25th September 2023: 11:00 AM UTC, to 26th September 2023; 11:00 AM UTC.
TrustSwap recently published a detailed guide that communities and interested members can read to participate in the initial dex offering for Tezos Domains.
IDO Price: $0.04
Initial Market Cap: $198,500
*Calculated excluding the liquidity Pool
Ivan Anastassov, COO of TrustSwap commented, "Technology evolves each day, we stand together with Tezos Domains and their idea of creating human-readable names for cryptocurrency addresses on the Tezos blockchain. Our goal is to maximise the utilities and all the benefits that its $TED token has to offer, and we're excited to offer it to the TrustSwap community first."
TrustSwap's blockchain expertise and global reach of community aims to support Tezos Domains with its $TED launch, granting access to its vibrant and engaged community. With the help of TrustSwap, Tezos Domains will release its governance token for the Tezos Domains DAO that will control the smart contracts and the treasury, including 100% of the revenue. Staking the token will also allow users to generate staking rewards and voting power.
Andrew Paulicek, Founder and CEO of Tezos Domains further commented, "First of all, we want to thank Tezos Foundation for their continued support, and we're very excited to have a partner like TrustSwap onboard as well. We're confident that this will serve as an excellent opportunity to improve our treasury and provide the opportunity to expand the user base of Tezos Domains. We're looking forward to the positive impact it will have on our ecosystem."
Since launching in 2021, Tezos Domains has seen their user base grow to over 150,000 unique active members and over 7,000 finished auctions with the highest bid recorded to be worth 3,500 XTZ (approximately $2,417 at the time of writing).
Media Contact
Company Name: Tezos Domains
Contact Person: Dverse
Email: Send Email
City: Road Town
Country: United States
Website: https://tezos.domains/en