2023 Miss Black California USA Scholarship Pageant Shines Spotlight on Empowerment and Talent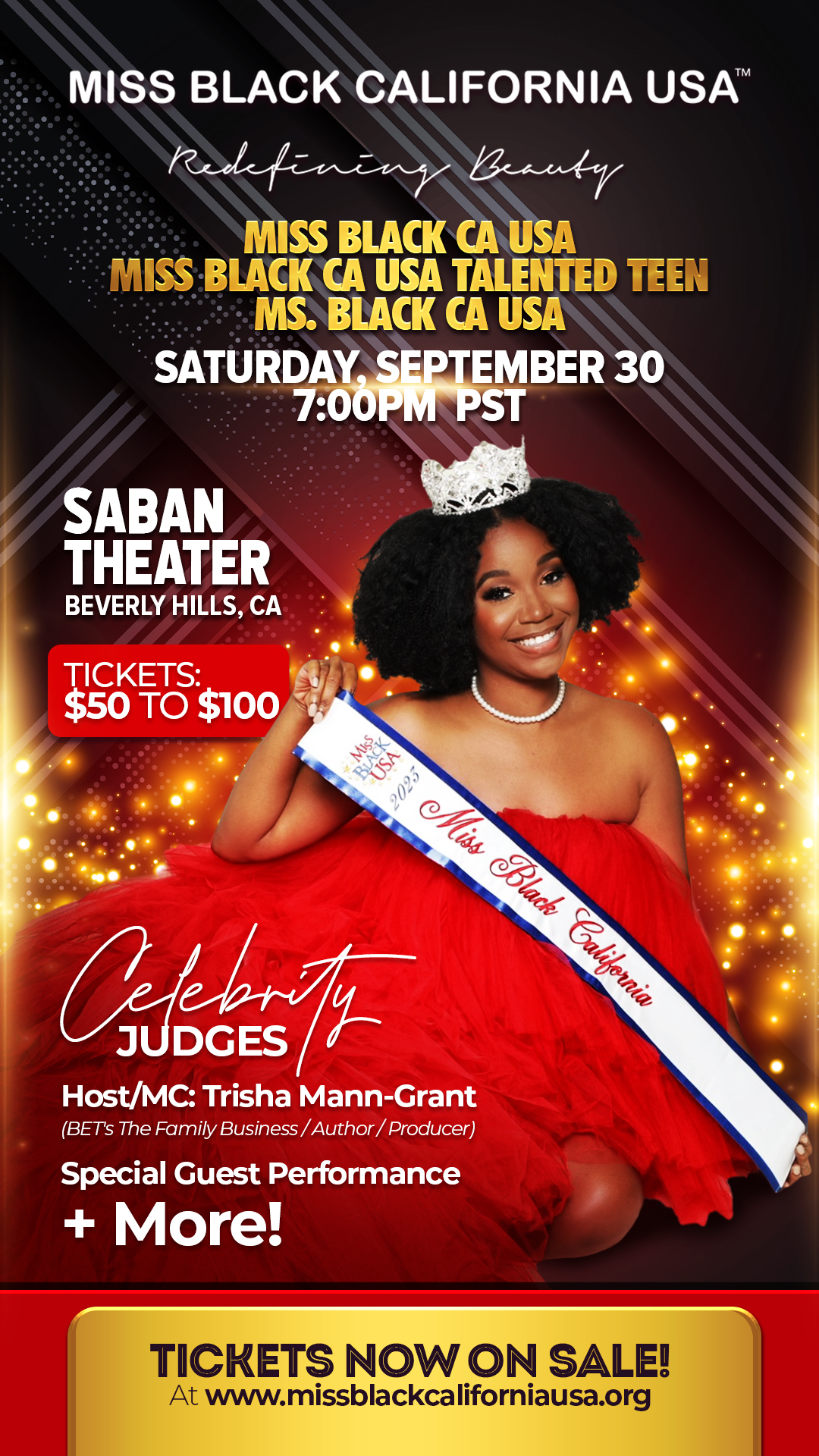 The 2023 Miss Black California USA Scholarship Pageant, hosted by Trisha Mann-Grant, promises an empowering night of talent and sisterhood in Beverly Hills on September 30, 2023, at 7:00 PM.
LOS ANGELES, CA, USA – The stage is set, and the countdown has begun for a dazzling night of empowerment, talent, and sisterhood. The 2023 Miss Black California USA Scholarship Pageant is all set to take center stage at The Saban Theater in Beverly Hills, CA, on September 30, 2023, at 7:00 PM. This prestigious event promises to be an unforgettable evening of inspiration and celebration.
Along with a star-studded panel of celebrity judges, one of the highlights of the evening will be the charismatic and talented host, Trisha Mann-Grant, who is known for her role as "Dominique Le'Roe" on Carl Weber's THE FAMILY BUSINESS on BET+. Trisha will guide the audience through an exciting, elegant, and purposeful evening.
The pageant will open with the competing contestants grooving to the sounds of the dynamic and Universal Recording artist Elisa Gomez Taylor and choreographed by the phenomenal Joe Brown. There will be exclusive performances by the reigning queens: Taylor Williams, Miss Black California; Gentel Sharrie, Ms. Black California; and Trinity Parish, Miss Black California Talented Teen. These remarkable women exemplify poise, confidence, thoughtfulness, and brilliance, embodying the essence of the pageant's mission.
Audiences can look forward to a captivating dance performance by the Little Miss African American Pageant Queens, showcasing the beauty of artistic expression. A special presentation will be given by the City of Los Angeles, recognizing The Miss Black California Queens for their significance in the empowerment of black women. Furthermore, in a display of their commitment to giving back, the Miss Black California Organization will present a check to the non-profit organization "Music For Your Mental Health," a unique program guided by Grammy-nominated music producers and therapists, fostering the creation of music as a therapeutic tool for youth 4 to 18. This contribution is a result of funds raised through their "People's Choice" Campaign, demonstrating the pageant's dedication to making a positive impact in the community.
Contestants will showcase their athleticism in specially designed athletic wear created for this competition by Canadian designer Ayo Abiola of FAYAH Athletics. The fusion of fashion and fitness will add a unique dimension to the event.
As one of the many prizes awarded that night, the newly crowned 2024 queens, who will carry the legacy forward, will have their gowns for the August 2024 national Miss Black USA competition held in Washington, D.C., designed by the multi-talented French, Cameroonian, and American producer, director, scriptwriter, and fashion designer Mason Ewing. Notably, Mason Ewing is visually impaired, showcasing that talent knows no boundaries.
The organization's ethos is clear as the Miss Black California USA Scholarship Pageant approaches: "We are not just a pageant. We are a sisterhood." The journey is celebrated as much as the destination, and this year's event promises to be a remarkable celebration of black excellence and sisterhood.
For more information on the Miss Black USA Scholarship Pageant and to purchase tickets, visit https://www.missblackcaliforniausa.org or email: info@missblackcaliforniausa.org.
About Miss Black California USA:
Miss Black California USA Organization is dedicated to empowerment and sisterhood and is a beacon of inspiration for black women. It provides a platform to showcase their talents and authenticity in today's society. With a rich lineage of accomplished queens and a commitment to community impact, the organization continues to shine as a symbol of excellence and unity.
Media Contact
Company Name: Miss Black CA USA
Contact Person: Antina Campbell
Email: Send Email
Country: United States
Website: http://missblackcaliforniausa.org/