Chasing the Bullet by Tom Holden is now available on Amazon for readers worldwide
"Chasing the Bullet" takes readers on a thrilling journey through the underbelly of London's financial world.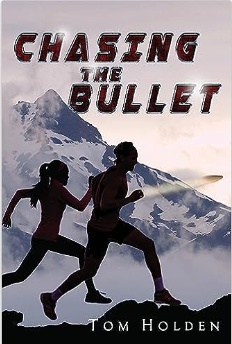 Written by Tom Holden, Chasing the Bullet has been launched on Amazon. This riveting tale of greed and deception takes readers into the dark and intricate labyrinth of London's financial underworld. This intense novel, inspired by true events, takes readers on a whirlwind adventure with high stakes and few allies.
In 2008, the world grappled with a financial crisis of unprecedented scale, and it is in this chaotic backdrop that we meet Reuben Freeman, a relentless protagonist embroiled in a deadly game of cat and mouse. His life becomes a tangled web of deceit, steeped in financial malfeasance and ruthless criminal endeavors.
Reuben finds himself at the center of a criminal maze that sees him pitted against dubious bank bosses, a languid police force, and a world of organized crime that threatens to engulf him at every turn. But it's not just the criminal underworld that Reuben must navigate. At the heart of this tale is a romance riddled with complexity and uncertainty as he seeks solace and partnership in a French lover and her confidante, adding a layer of intricate relationships and personal dilemmas to an already pulsating narrative.
Drawing from rich personal experience in financial services, spanning continents from the USA to Southeast Asia, the author crafts a story that is as authentic as it is compelling. The book is more than a fiction; it's a reflection of the complex, multi-dimensional world of finance, where greed often supersedes morality.
"Chasing the Bullet" mirrors the deep-seated intricacies of financial landscapes and criminal networks in multicultural 21st-century London. The book sheds light on the grim realities of a society grappling with moral dilemmas and the ever-present shadow of treachery, encouraging readers to question the very foundations of right and wrong in a world where lines are continually blurred.
Chasing the Bullet is now available for sale on Amazon.
About the Author:
With over 30 years of experience in the financial services sector, the author navigates us through a story rich with details only an insider could know, leveraging a deep understanding of the industry honed across continents, including the USA, Europe, and Southeast Asia.
Learn more about Tom Holden at: https://www.tomholdenbooks.com
Media Contact
Company Name: Vintage Ink Solutions
Contact Person: Jane Lopez
Email: Send Email
City: California
State: Laguna Beach
Country: United States
Website: vintageinksolutions.com