Jets QB Aaron Rodgers Torn Achilles Could Be Career Ending; Does Tom Brady Get A Call From Jets?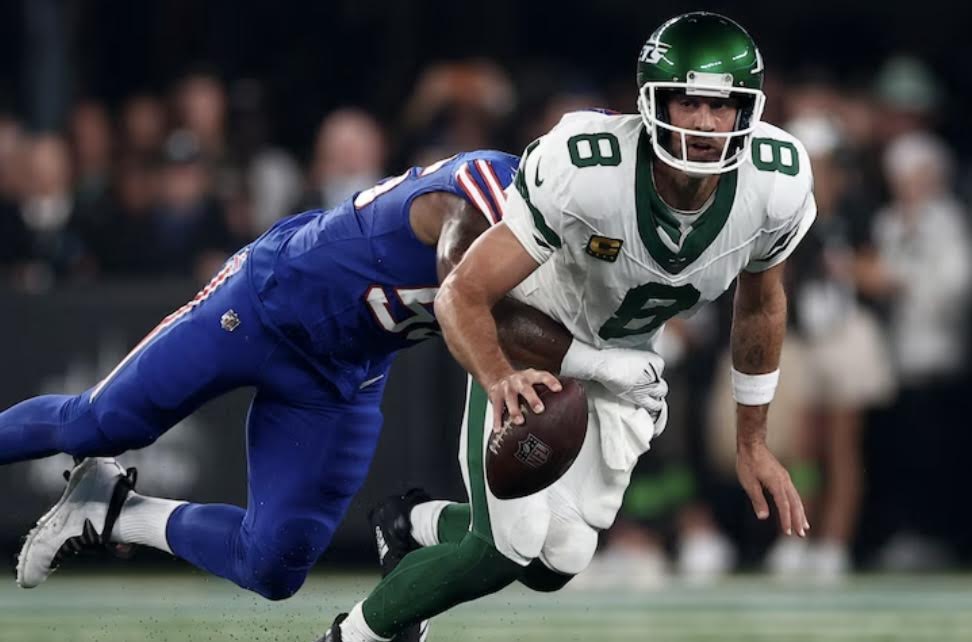 NEW YORK, NY – Monday night will be another date that New York Jets fans will not soon forget about as it pertains to their hopes and dreams of inching closer to a Super Bowl appearance on the shoulders and arm of quarterback Aaron Rodgers who went down during the first series of the opening season game with a achilles injury. To many who witnessed the unfortunate action, the entire breath appeared to be sucked out of every Jets fan in the stadium.
Rodgers appeared to be excited and looked forward to competing as the Jets quarterback, running out on the field pregame with the American flag as many remember one of the worst tragedies on American soil — the terrorist attacks that happened on September 11, 2001. On the fourth play of the game, Rodgers looked to avoid Buffalo Bills Leonard Floyd, who tackled the Rodgers and brought him down. Rodgers reached for his left leg before the Jets trainers could get to him. He stood up but couldn't put any weight on the leg and needed the assistance of trainers to help him to the sidelines. Rodgers was done for the game.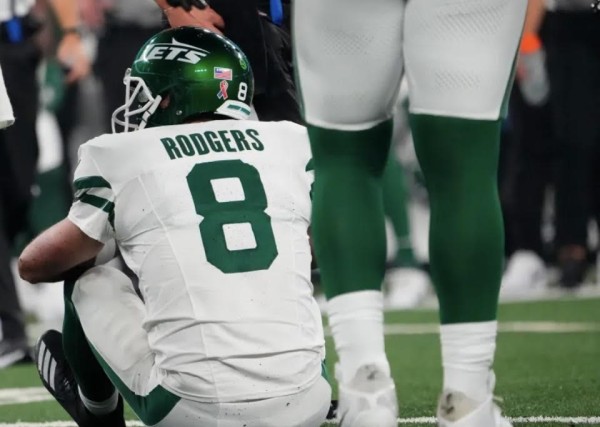 Tuesday morning an MRI reveled a torn achilles in his left leg that will prevent him from playing this season, and being the oldest starting quarterback at 39 years old could be career ending. Rodgers could weigh his options if decides to return which will be a lengthy process, or he could see it as a sign to hang up his cleats.
Sports talk show host Pat McAfee (The Pat McAfee Show) spoke with Stephen A. Smith and Shannon Sharp on ESPN's First Take and gave his perspective on the process of returning for Rodgers.
"I'm not 100 percent on what the rehab is for that, but I don't hear anybody talking about how miserable rehab is after surgery," McAfee said. "It is not fun! It is lonely days, it is painful days, you have to live in hope and optimism as opposed to the present and the trainers and physical therapist that put your through it.
"There is a chance the he may view this as a sign from the universe (and) he's always wanted the chance to remain with one team and now he goes to the Jets four plays in that kinda ended quickly. Maybe he'll think it's a sign from the universe," McAfee said.
For the many years we all have witnessed the greatness of Rodgers, one thing that can not be questioned is his love and competitiveness for the game of football. Since 2005 when he became the starter for the Green Bay Packers to current, Rodgers has 59,055 total yards, thrown for 475 touchdowns, a Super Bowl champion, and a career quarterback rating of 103.6.
"If you listen to him talk about football and his love for the sport and his competitive drive, I'm not sure he's going to want to go out like that," McAfee told ESPN.
His teammate echoed the same sentiments along Jets fans who would welcome him back to MetLife Stadium if Rodgers decided to return. One positive note for the Jets was Zach Wilson guiding them the team to victory of AFC East rival Buffalo Bills in a 22-16 overtime win. Though the team captured the victory it wasn't a sweet without their general under center being present. Jets center Duane Brown was just in disbelief at what happened to Rodgers.
"It sucks," Brown told CBS Sports reporter and NFL insider Josina Anderson. "I got all the respect and love for Aaron… but I just hate to not see him out there. Obviously we rallied and Zach did a hell of a job coming in and we got the win."
The bigger question is what team could the Jets put out a call to fill that quarterback vacancy? Wilson is their starting quarterback for now, but this franchise had high hopes of making a serious playoff run that would ultimately guide them them to the Super Bowl. The Jets could reach out to seven time Super Bowl champion and recently retired quarterback Tom Brady. Another perspective could be them reaching out to the Los Angeles Rams to inquire about the future of Matthew Stafford. Could the Jets reach out to Carson Wentz as a potential role for the starting spot?
As for now the Jets affirm that Wilson is their quarterback to lead the team throughout the season. Time will reveal if they indeed stick with that philosophy or move in a different direction.
The Jets face the Cowboys in Dallas on Sunday at 4:25PM ET on CBS.
Media Contact
Company Name: ICT
Contact Person: Nolan Bellamy
City: Los Angeles
State: CA
Country: United States
Website: www.iconnectyou.today