Author's Tranquility Press Proudly Presents: Chronicles of Valor and Sacrifice – "Vietnam Helicopter Crew Member Stories: Volume IV" by H. D. Graham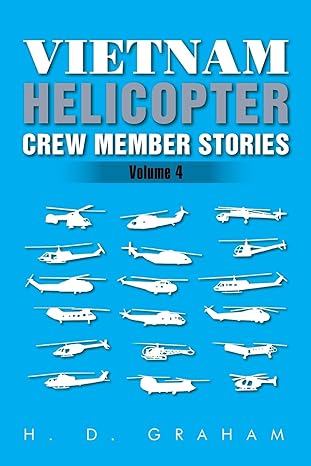 Unveiling the Unforgotten Heroes: A Tapestry of Courage, Resilience, and Unbreakable Bonds
Author's Tranquility Press, a beacon of profound storytelling, is honored to reveal the latest installment in a remarkable series that has captivated readers around the world. Introducing "Vietnam Helicopter Crew Member Stories: Volume IV," an extraordinary anthology authored by H. D. Graham that immerses you in the harrowing yet inspiring accounts of those who served as air or ground crew members during the Vietnam War.
In this highly anticipated fourth volume, H. D. Graham invites you to soar into the skies once more, accompanying the brave men who defied danger to serve their country. Through evocative short stories, rare photographs, and authentic documents, the author weaves a rich tapestry of experiences that span the spectrum of human emotion – from the depths of fear to the pinnacle of camaraderie and selflessness.
"Vietnam Helicopter Crew Member Stories: Volume IV" goes beyond the battlefield, delving into the hearts and minds of those who carried out perilous missions in the choppers that crisscrossed Vietnam. H. D. Graham's meticulous research, coupled with personal insights drawn from his own experiences, results in a narrative that challenges the reader to confront the sacrifices made and the bonds forged during a time of unimaginable turmoil.
Reflecting on the significance of this volume, H. D. Graham shares, "These stories are a tribute to the indomitable spirit of those who served. They remind us that even in the face of adversity, heroes emerge."
Every page of this riveting anthology is a testament to the unyielding courage that defined helicopter air crew members and ground support crew members during the war. As you traverse these stories, you'll gain a deeper understanding of the challenges they faced, the sacrifices they made, and the legacy they left behind.
Join Author's Tranquility Press in celebrating the release of "Vietnam Helicopter Crew Member Stories: Volume IV" – an embodiment of resilience, valor, and the unwavering human spirit. These stories are not just records of history; they are living testaments to the power of determination and the profound impact of service.
About the Author:
H. D. Graham is an esteemed author with a deep-rooted commitment to honoring the stories of those who have shaped history. With "Vietnam Helicopter Crew Member Stories: Volume IV," Graham continues to fulfill this mission, offering readers an opportunity to connect with the past and pay homage to the sacrifices that have paved the way for our present.
Order your copy of "Vietnam Helicopter Crew Member Stories: Volume IV" today and embark on an unforgettable journey through the skies of heroism, camaraderie, and unwavering determination. Visit his website at www.hdgraham.com .
About Author's Tranquility Press
Author's Tranquility Press is a top publicity agency known for delivering innovative solutions designed to help writers across genres to reach a wider audience. The company combines the use of the latest technologies and the expertise and diverse experience of the team to provide quality, relatable content to as many people as possible, irrespective of their location across the globe.
Media Contact
Company Name: Author's Tranquility Press
Contact Person: Patricia Adams, Marketing Supervisor
Email: Send Email
Phone: (866) 411-8655
Address:3800 CAMP CREEK PKWY SW BLDG 1400-116 #1255
City: Atlanta
State: Georgia, 30331
Country: United States
Website: www.authorstranquilitypress.com