KingSpec Empowers Student Innovation and Success in the Shanghai University Business Elite Challenge
Shenzhen, China – Shenzhen Kingspec Electronics Technology Co., Ltd., a leading electronics technology company based in Shenzhen, played a pivotal role in supporting students at the recent Shanghai University Business Elite Challenge, leading to remarkable achievements. The international trade competition, held successfully on May 20, brought together exceptional students from various universities across China to demonstrate their skills in challenging trade scenarios. KingSpec provided product support, technical expertise, and professional knowledge to the participating students, showcasing its commitment to education and fostering student innovation.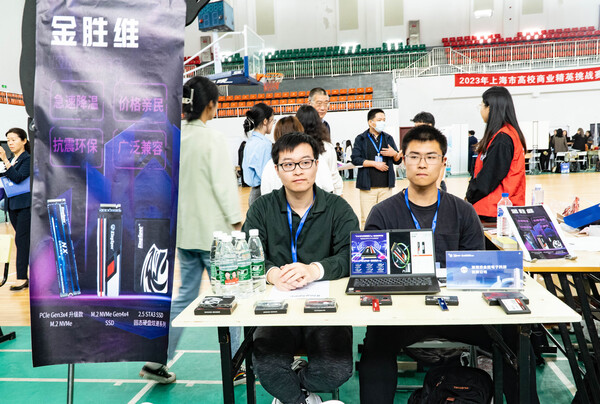 Kingspec, established in 2007, has emerged as a distinguished "China High-tech Enterprise" specializing in designing, developing, manufacturing, and selling a wide range of storage and memory products. Over the past 15 years, the company has garnered numerous accolades, including membership in the Information Technology Application Innovation Work Committee, recognition as a Guangdong Province Contract-Abiding and Trustworthy Enterprise, and National Little Giant Enterprise.
KingSpec operates two brands: YANSEN for industrial-grade storage and KingSpec for consumer-grade storage. Both brands offer a variety of storage interfaces and offer four product lines: Internal SSD, External SSD, DDR, and Memory Card. The company has provided customized storage solutions in cutting-edge fields such as enterprise Data Centers, Industrial Automation, Surveillance, Automotive, Medical, Artificial Intelligence of Things (AIoT), and Finance. The company has established a comprehensive quality management system and obtained various authoritative international certifications, including ISO9001, FCC, CE, RoHS, REACH, and WEEE.
Shanghai University Business Elite Challenge, International Trade Professional Competition, represents a novel initiative to foster comprehensive innovation and practical skills in China's international economic and trade education domain. It is one of China's largest and most prestigious international economic and trade specialty competitions, playing a crucial role in the undergraduate education program for international economics, trade, and related disciplines. Students' practical operational and innovative abilities are evaluated comprehensively and from multiple perspectives through assessments in four areas: business plan presentations, booth poster design and display, new product launches, and trade negotiation. The competition aims to nurture students' market insight, communication and negotiation skills, problem-solving abilities, and competitiveness in the international economic and trade sector.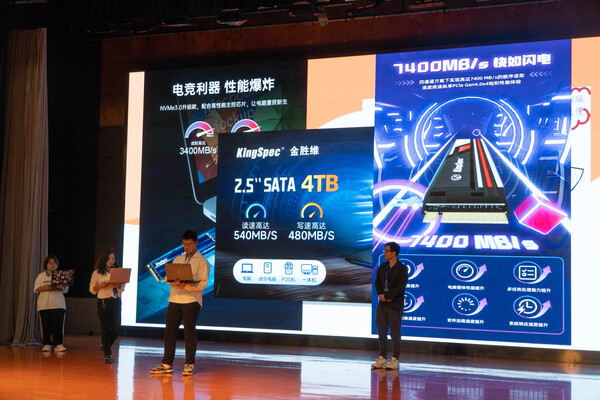 Participating students representing KingSpec throughout the competition showcased KingSpec's latest storage products, including the highly acclaimed NX2280 and XG7000 PRO series. The XG7000 PRO series is a powerful NVMe PCIe Gen 4×4 SSD that supports high-speed read and write speeds of up to 7400MB/s and 6600MB/s, respectively. XG7000 PRO series support PS5, laptop, and desktop. The other new storage product is NX2280, an NVMe PCIe3.0 SSD designed explicitly for gaming laptops, featuring fast read and write speeds of 3400MB/s and 3100MB/s, respectively. The release of these new products captured the audience's and
competition judges' attention, showcasing KingSpec's innovative capabilities and research and development strength. Ultimately, the student's outstanding performance earned them the award, recognizing their hard work and professional competence in this competition.
The partnership between KingSpec and the participating universities provided invaluable learning opportunities for the students. It fostered collaboration between academia and industry, further advancing the development of China's international economic and trade education sector. KingSpec's commitment to offering cutting-edge products and expertise has facilitated the students' remarkable success in the competition, underscoring the company's dedication to student innovation and education.
For media inquiries or further information, please contact:
Media Contact
Company Name: Shenzhen Kingspec Electronics Technology Co.Ltd
Contact Person: Morffin
Email: Send Email
Phone: +8675526985379
Country: China
Website: https://www.kingspec.com/