Psoriasis Market to Register Sustainable Growth During the Forecast Period (2022-2032) – DelveInsight | Key Companies – Arcutis, GlaxoSmithKline, UCB, Eli Lilly, Boehringer Ingelheim, Akros Pharma
As per DelveInsight, the Psoriasis Market is anticipated to evolve immensely in the coming years owing to the rise in the number of cases of Psoriasis, changing lifestyles, increasing disposable income, higher adult population, and the launch of new therapies in the market.
Several major pharma and biotech companies across the globe are thoroughly working toward the development of new treatments and devices which are expected to change the current treatment scenario for Psoriasis. Several emerging pharmacotherapies for Psoriasis are in different stages of clinical development and are expected to launch in the near future.
DelveInsight's "Psoriasis Market Insights, Epidemiology, and Market Forecast 2032" report delivers an in-depth understanding of the disease, historical and forecasted epidemiology, as well as the Psoriasis market size, share, trends, and growth opportunities in the seven major markets (7MM) (i.e., the United States, EU4 (Germany, Spain, Italy, France), the United Kingdom and Japan).
The report covers emerging Psoriasis drugs, current treatment practices, market share of individual therapies, and current & forecasted market size from 2019 to 2032. It also evaluates the current Psoriasis treatment practice/algorithm, key drivers & barriers impacting the market growth, and unmet medical needs to curate the best of the opportunities and assess the underlying potential of the market.
Psoriasis: An Overview
Psoriasis is a chronic, immune-mediated inflammatory skin disease characterized by the presence of papules and plaques occurring most commonly on the elbows, knees, scalp, and lower back, but is not limited to these areas. The World Health Organization recognized psoriasis as a serious non-communicable disease. It has been recognized as a skin disease and systemic disease since it also causes psoriatic arthritis and mental disorders.
Psoriasis has both pediatric and adult-onset, with the former accounting for more number of cases. Plaques vary in terms of variable morphology, distribution, and severity. Psoriatic patients are frequently categorized into two groups: mild or moderate to severe psoriasis, depending on the clinical severity of the lesions, the percentage of affected body surface area, and patient quality of life.
Psoriasis Market Key Facts
The total prevalent cases of psoriasis in the 7MM were 15,450,000+ in 2020.

The market size of Psoriasis in the United States was USD 12,091 Million in 2020 which is estimated to increase in the coming years.

The National Psoriasis Foundation (NPF) estimates that approximately 8 million Americans are affected by psoriasis, resulting in a prevalence of 2–4% in the United States, according to population-based estimates.

According to a research study by Mease et al., up to 40 % of patients with psoriasis go on to develop PsA, usually within 5–10 years of cutaneous disease onset.

As per a study by Parisi et al., (2020), Psoriasis can occur at any age, although most patients present with the condition before 35 years old.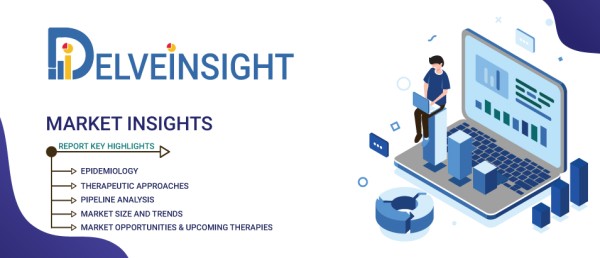 The market outlook section of the report helps to build a detailed comprehension of the historical, current and forecasted Psoriasis market size by analyzing the impact of current and emerging pipeline therapies. It also thoroughly assesses the market drivers & barriers, unmet needs, and emerging technologies set to impact the market dynamics.
The report gives complete detail of the Psoriasis market trend for each marketed drug and mid & late-stage pipeline therapies by evaluating their impact based on the annual cost of therapy, their Mechanism of Action (MOA), Route of Administration (ROA), molecule types, competition with other therapies, brand value, and their impact on the market.
Psoriasis Epidemiology Assessment
The epidemiology section provides insights into the historical, current, and forecasted Psoriasis epidemiology trends in the seven major countries (7MM) from 2019 to 2032. It helps to recognize the causes of current and forecasted epidemiology trends by exploring numerous studies and research. The epidemiology section also provides a detailed analysis of diagnosed and prevalent patient pools, future trends, and views of key opinion leaders.
The Report Covers the Psoriasis Epidemiology, Segmented as –
Prevalence of Psoriasis in Pediatrics in the 7MM (2019–2032)

Prevalence of Psoriasis in Adults in the 7MM (2019–2032)

Type-specific prevalent cases of Psoriasis in the 7MM (2019–2032)

Location-specific prevalent cases of Psoriasis in the 7MM (2019–2032)

Severity-specific prevalent cases of Psoriasis in the 7MM (2019–2032)
Psoriasis Drugs Uptake and Pipeline Development Activities
The drug uptake section focuses on the uptake rate of potential drugs recently launched in the Psoriasis market or expected to be launched during the study period. The analysis covers the Psoriasis market uptake by drugs, patient uptake by therapies, and sales of each drug. Moreover, the therapeutics assessment section helps understand the Psoriasis market dynamics with respect to the drug's revenue and rapid uptake and the reasons behind the maximal use of the particular drugs. Additionally, it compares the Psoriasis drugs based on their sale and market share.
The report also covers the Psoriasis pipeline development activities. It provides valuable insights about different therapeutic candidates in various stages and the key companies involved in developing targeted therapeutics. It also analyzes recent developments such as collaborations, acquisitions, mergers, licensing patent details, and other information for emerging therapies.
Learn How the Psoriasis Market Will Evolve and Grow by 2032 @
https://www.delveinsight.com/sample-request/psoriasis-market
Psoriasis Therapeutics Analysis
Several major pharma and biotech companies are developing therapies for Psoriasis. Currently, Biocad is leading the therapeutics market with its Psoriasis drug candidates in the most advanced stage of clinical development.
Psoriasis Companies Actively Working in the Therapeutics Market Include
Abbvie, Affibody AB, Allergan, Amgen, Arbor Pharmaceuticals, Arcutis Biotherapeutics, Aristea Therapeutics, Astellas Pharma, AstraZeneca, Bausch Health Companies, Biocad, BioMimetix JV, Boehringer Ingelheim, Bristol-Myers Squibb, Can-Fite Biopharma, Celltrion, Coherus BioSciences, Dermavant Sciences, Dr. Reddy's Laboratories, Eli Lilly, Evelo Biosciences, Galderma, Galectin Therapeutics, Genentech, GlaxoSmithKline, Iltoo Pharma, Janssen Biotech, Janssen Pharmaceuticals, Jiangsu HengRui Medicine, Kadmon Pharmaceuticals, LEO Pharma, Mayne Pharma, MC2 Therapeutics, Menlo Therapeutics Inc., Merck, MetrioPharm, Mylan, Novartis, Pfizer, Promius Pharma, Santalis Pharmaceuticals, Sienna Biopharmaceuticals, Sun Pharmaceutical, UCB Inc., UNION Therapeutics, and many others.
Emerging and Marketed Psoriasis Therapies Covered in the Report Include:
Topical roflumilast: Arcutis Biotherapeutics

GSK2982772: GlaxoSmithKline

Bimekizumab: UCB

Mirikizumab: (Eli Lilly and Company

BI 730357: Boehringer Ingelheim

JTE-451: Akros Pharma Inc.

KD025: Kadmon Pharmaceuticals

PF-06826647: Pfizer

XP23829: Arbor Pharmaceuticals/Dr. Reddy's Laboratories

Tapinarof: Dermavant
And Many More
The Report Covers the In-depth Assessment of the Emerging Drugs & Key Companies. Download the Sample Report to Learn More @
https://www.delveinsight.com/sample-request/psoriasis-market
Table of Content (TOC)
1. Key Insights
2. Executive Summary
3. Psoriasis Competitive Intelligence Analysis
4. Psoriasis Market Overview at a Glance
5. Psoriasis Disease Background and Overview
6. Psoriasis Patient Journey
7. Psoriasis Patient Population and Epidemiology Trends (In the US, EU5, and Japan)
8. Psoriasis Treatment Algorithm, Current Treatment, and Medical Practices
9. Psoriasis Unmet Needs
10. Key Endpoints of Psoriasis Treatment
11. Psoriasis Marketed Therapies
12. Psoriasis Emerging Drugs and Latest Therapeutic Advances
13. Psoriasis Seven Major Market Analysis
14. Attribute Analysis
15. Psoriasis Market Outlook (In US, EU5, and Japan)
16. Psoriasis Access and Reimbursement Overview
17. KOL Views on the Psoriasis Market
18. Psoriasis Market Drivers
19. Psoriasis Market Barriers
20. Appendix
21. DelveInsight Capabilities
22. Disclaimer
*The Table of Contents (TOC) is not exhaustive; the final content may vary. Refer to the sample report for the complete table of contents.
Download the Sample PDF to Learn More About the Key Offerings of the Report @
https://www.delveinsight.com/sample-request/psoriasis-market
About DelveInsight
DelveInsight is a leading Business Consultant and Market Research Firm focused exclusively on life sciences. It supports pharma companies by providing comprehensive end-to-end solutions to improve their performance.
Other Trending Healthcare Reports by DelveInsight
"Chronic Pancreatitis Market Insights, Epidemiology, and Market Forecast-2032" report delivers an in-depth understanding of the historical and forecasted epidemiology as well as the Chronic Pancreatitis market size, share, trends, and growth analysis in the seven major markets (i.e. the United States, EU5 (Germany, Spain, Italy, France, and the United Kingdom) and Japan. Moreover, it also covers the current treatment practices, emerging drugs, market drivers, market barriers, and unmet medical needs to curate the best of the opportunities and assesses the underlying potential of the Chronic Pancreatitis market.
Media Contact
Company Name: DelveInsight Business Research LLP
Contact Person: Shruti Thakur
Email: Send Email
Phone: 09650213330
Address:304 S. Jones Blvd #2432
City: Las Vegas
State: NV
Country: United States
Website: https://www.delveinsight.com/