"My Daddy Left But My Heavenly Father Stayed" By Barbara Jean Brown Anderson
Class, honesty, and dignity are a few of the stable traits of Dr. Barbara Jean Brown Anderson. Not to mention that she has penned her life's journey, addressing the emotions of abandonment. Barbara grew up in Alabama during unrest and segregation, making life harder without a daddy to guide her. Her mission, even when young, is to help others deal with the wide range of excuses, broken promises, and major let-downs that her daddy left in a trail behind himself.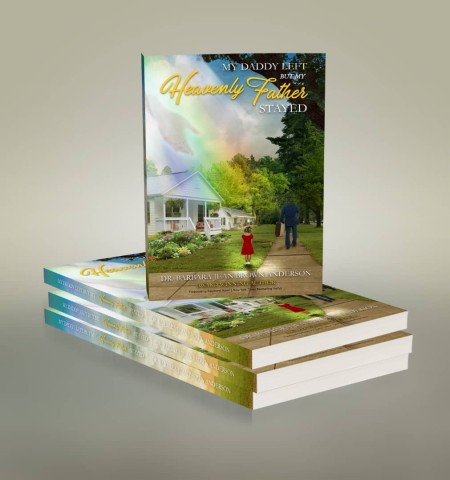 You will love her mother's spirit to face what feels like insurmountable issues. But her ma'me has a secret weapon that supports her every need, a village to lend her a helping hand when things get a bit too rough. That old saying, it takes a village to raise a child, is a fact!
Her usual grace, faith in God, convictions, and the love of her Ma'me and grandma, Mama Dear, inspired her to reach the impossible. But nothing was in Barbara's vocabulary that even hinted at a word like can't.
My Daddy Left, But My Heavenly Father Stayed takes an honest and challenging look at how abandonment affects a child. Barbara's courage and tenacity drove her to pen this book sharing her intimate stories. It was not easy as she is a private person. However, with great diligence, she faced memories to help you and herself let go of whatever she still had left inside of herself. She says you need to let go of the sad memories and pain, give them up to God, and forgive those who hurt you.
It's a tall order, but she has done it herself, finding peace and happiness with her faith in God. Dr. Barbara Jean Brown Anderson has written a masterpiece that makes her family proud, including her village and those who know her.
You will know Barbara's family in each chapter while she meets new challenges. You flip the pages in anticipation of what she dares to defy, yet conquers.
While she dedicates her book to so many, she knows her ma'me is looking over her, as Barbara quietly says, this one is for you, Ma'me!
Join Barbara, if you dare, so you can find the peace Dr. Anderson enjoys in her life. You are sure to find your way through the examples and stories shared!
Please go to www.barbaraandersonbooks.com to connect with Barbara Anderson or buy her book on Amazon.
Media Contact
Contact Person: Dr. Barbara Jean Brown Anderson
Email: Send Email
Country: United States
Website: www.barbaraandersonbooks.com