PharmaResearch Acquires Medicoson, Medical Electronics Company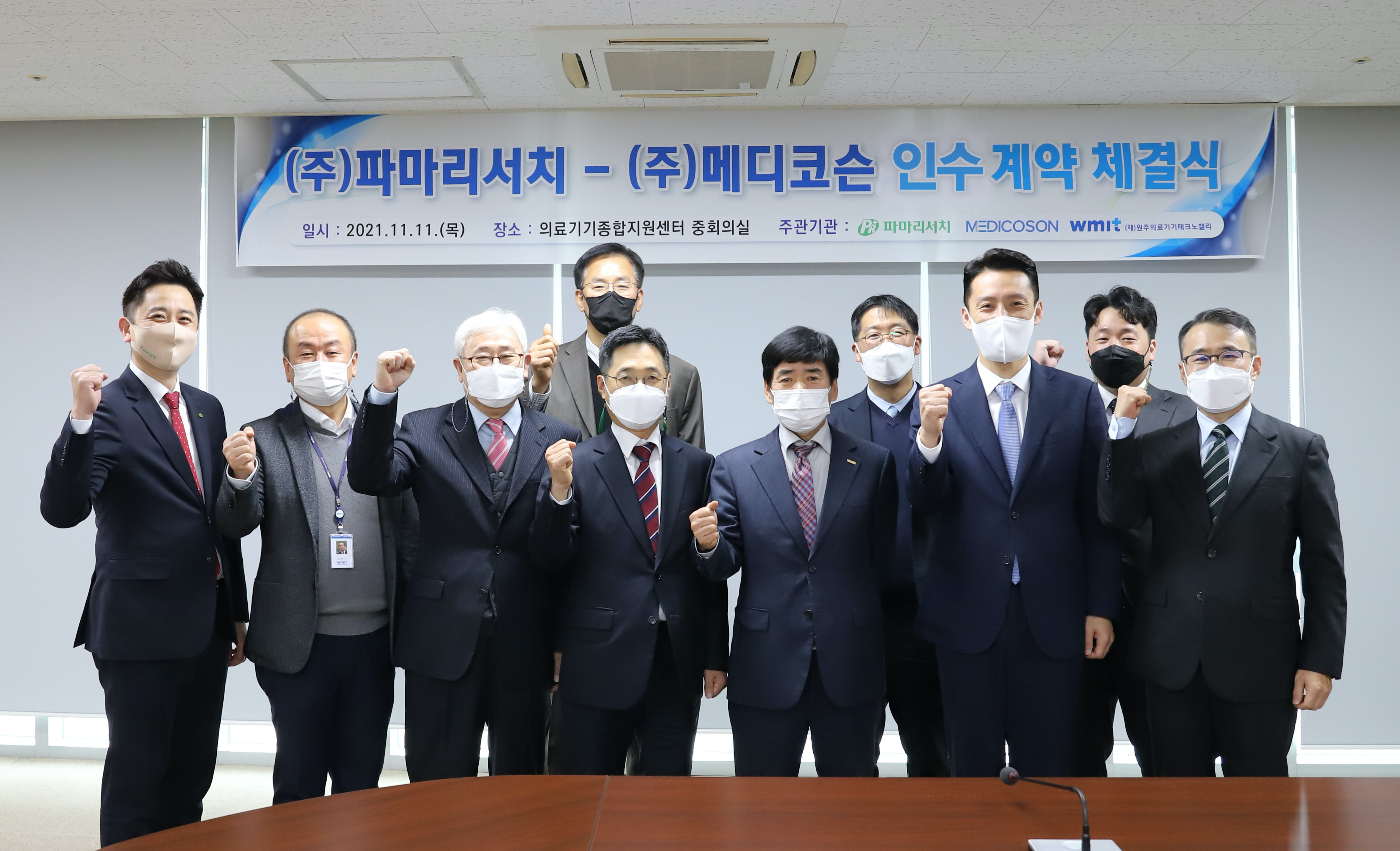 (Front row, fourth from left) Kang Ki Seok, CEO of PharmaResearch, Kim Kwang Soo, Head of Wonju Medical Industry Technovalley, Won Chul Hee, CEO of Medicoson.
PharmaResearch expands its business portfolio to the medical electronics in aesthetic, orthopedics, and oncology market.
PharmaResearch Co., Ltd. (CEO Kang Ki Seok, Kim Thinkyou) acquired Medicoson Co., Ltd, a medical electronics manufacturer (CEO Won Chul Hee) in field of aesthetics, orthopedics, and oncology.
Medicoson, which is now based in Wonju Medical Industry Technovalley (WMIT), was established in 2019. Its flagship products include DUOLIF, a home care beauty device that combines HIFU (High Intensity Focused Ultrasound) and high-frequency technology into one device, and AXION, a high-frequency stimulator using electro pads.
Through this acquisition, it is expected that Medicoson technology will be used in the aesthetic, orthopedics, and oncology markets dominated by PharmaResearch. As a result, PharmaResearch will expand its scope to not only injectable medical device market but also to the medical electronics market.
"We're looking forward to creating the synergy between our marketing capabilities and Medicoson's cutting edge technology for medical electronics," a PharmaResearch official said. "We will diversify our business and accelerate the expansion of our product lineup."
PharmaResearch is a pharmaceutical company based on regenerative medicine that manufactures and do the marketing for pharmaceuticals, medical devices, cosmetics, and dietary supplement, focusing on tissue regeneration substances DOT™ PDRN and DOT™ PN. PharmaResearch's flagship brands are Rejuran, Conjuran, Rejuran Cosmetics, and Re-an eye drop.
Media Contact
Company Name: Pharma Research Co., Ltd.
Contact Person: Doyoung Kim
Email: Send Email
Phone: +82-31-8039-1462
Address:77-19, Gwajangdanji-ro
City: Gangneung-si
State: Gangwon-do
Country: South Korea
Website: http://pharmaresearch.co.kr/eng/