NEW SHOES LINE SKYSS LAUNCHES ITS FIRST SNEAKERS DONATING PROFITS TO HURRICANE DORIAN RELIEF FUNDRAISER IN THE BAHAMAS
Bahamian designer, Shenique King, partnered with Alive Shoes to created her vision for a new shoe line she has been developing. The SKYSS line vision creates comfortable shoes for men and women in an office setting, networking environment, or after hours entertainment. The S for Shenique and KYSS (KISS) together paints the new artistic shoe line slogan "Kiss your feet in style and activate" for the businessmen and women in all environmental settings.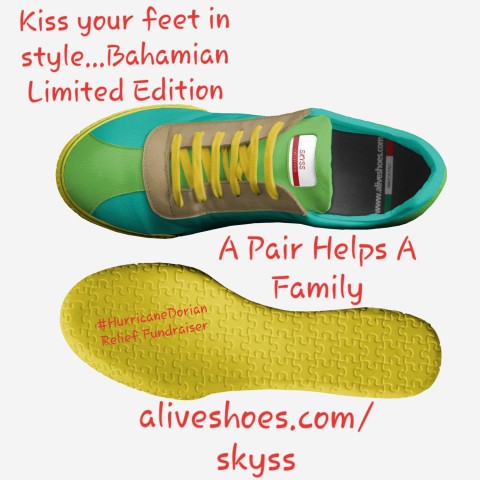 Due to the recent devastation of Hurricane Dorian in the Bahamas, the designer immediately decided to donate fifty percent of net profits, after manufacturing and shipping cost, to the Hurricane Dorian relief fundraiser. As a native Bahamian, the designer resided her first two years of life on the island of Abaco, and she has many family and friends that lost everything that resides on the island of Grand Bahama. As a child, she spent most of her summers in Grand Bahama and half of her family still lives on the island.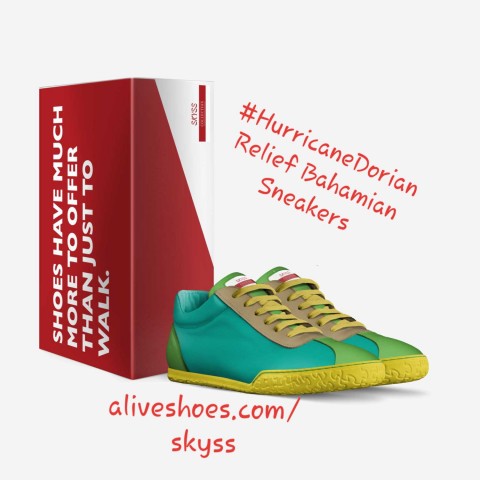 The Limited Edition Real Italian Leather "Bahamian Style" Sneakers will be available until October 8th, 2019 with free shipping on all orders within the US and Europe. The designer's partnering company Alive Shoes will not be able to start production without a significant amount of pre-orders. SKYSS shoe line goal is to complete one thousand orders by the end of the campaign giving the designer the ability to contribute a significant amount of the proceeds towards helping the families that are in need from this devastating natural disaster.
The designer can be contacted at kingroyalmanagement@gmail.com
For more information, visit: www.aliveshoes.com/skyss
Media Contact
Company Name: SKYSS Artistic Shoes (Managed & Operated by King Royal Management)
Contact Person: Shenique King
Email: Send Email
Phone: 1-561-408-5353
Country: United States
Website: www.aliveshoes.com/skyss